If you're in charge of maintaining a commercial piece of land, you may be familiar with the word 'landscaping'. But what is landscaping? To answer this question, we have put together this comprehensive guide that not only explains what landscaping is but also the different types that exist. We've also included some commercial landscaping ideas to inspire your next project!
What Is Landscaping? A Comprehensive Guide
As experts in commercial landscaping in Milton Keynes, we have many years of experience providing this service to businesses to help them maintain the aesthetics of their land. This means that we have all the knowledge and expertise required to guide you in discovering not only what the different types of commercial landscaping involve but also the benefits of having it done. We have also provided some of our favourite commercial landscaping ideas at the end of this article since it can be overwhelming to know where to start!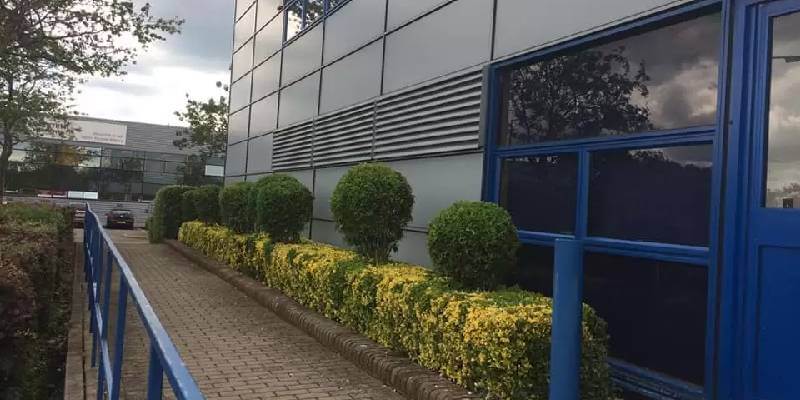 Neal Landscapes Project – Commercial Landscaping
Before we get into the advantages and different types of landscaping, you will need to understand what the term actually means. 'Landscaping' can be defined as the process of enhancing the aesthetics of a piece of land through changes to its layout and design. This could include alterations such as the removal or addition of trees, shrubs and greenery and the placement of decorative – and sometimes functional – structures and ornaments.
Landscaping always aims to create beauty within the piece of land undergoing this process. It may be used to create a sleek and professional-looking environment, as is often the case with commercial landscaping, but it can also be used to create a more abundant, nature-filled aesthetic. If you are interested in our commercial landscaping in Milton Keynes, please do not hesitate to get in touch with our team to find out more or request a quotation.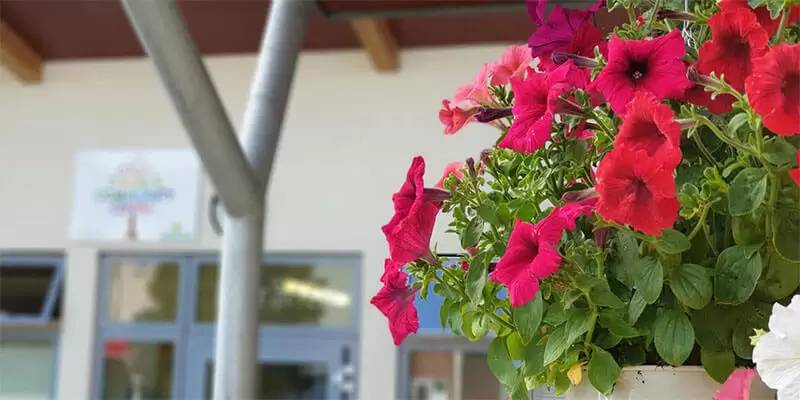 Neal Landscapes Project – Flower Display Installation
While some of the benefits of landscaping are fairly obvious, there are some advantages to having this service done on your commercial property that may be unexpected. Here are some reasons to consider looking into landscaping:
Impress site visitors – from clients to potential investors, having sleek, well-maintained business premises is an excellent way to leave a good impression on those that visit your site and have a positive impact on their opinions of your business.
Enhance safety – by keeping your commercial premises neat and tidy through the completion of landscaping, you will enhance the safety of your site by reducing the likelihood of accidents. For example, by keeping the land clear of any loose debris, tripping will become far less likely.
Improve employee morale – physical working environment has a significant impact on employee morale and wellbeing, which in turn affects productivity. By having your business premises landscaped to look nice and incorporate nature, you will benefit from employees that are calmer and happier, as well as productive and efficient.
Increase your property's value – investing in your commercial property by having landscaping completed on the land is an excellent way to drive up the market value of your business premises.
Support wildlife – by adding a variety of plants and greenery to your commercial property, you will attract critical pollinators, supporting their survival and wellbeing, which is vital in maintaining the delicate balance of ecosystems.
For more benefits of having commercial landscaping carried out, why not check out our previous article?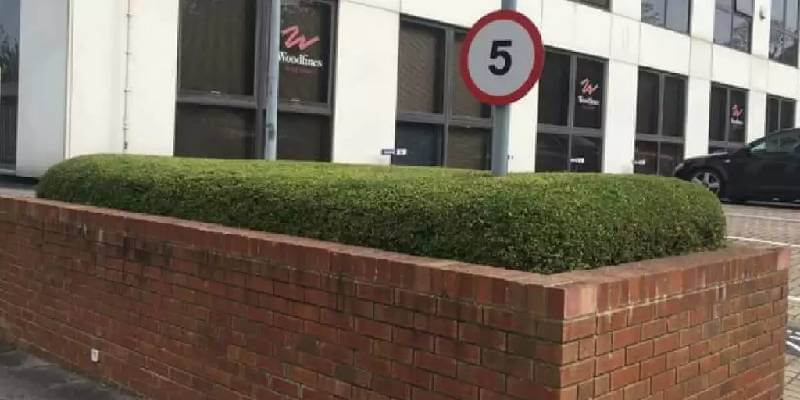 Neal Landscapes Project – Shrub Pruning
There is a huge variety of different aesthetic enhancements that fall under landscaping. The majority of these fall under one of the following categories:
Greenscaping
A large part of landscaping is the removal, planting, shaping, and maintenance of greenery, including grass, flowers, trees and shrubs, which is sometimes referred to as greenscaping. By including and maintaining the condition of plants on your landscape, you will add a soothing and refreshing splash of colour to your commercial property. Whether you choose to stick to a selection of neutral, green grasses and shrubs or a more adventurous mix including brightly-coloured flowers, including plants in your landscape design is a must for avoiding a harsh and melancholy atmosphere.
Pavement
From footpaths to driveways, paved areas are often found in commercial landscapes and require maintenance to remain in peak aesthetic and functional condition. Generally, landscaping involves ensuring that the edges of any paved areas are neat and crisp and that the areas are smooth and free from debris. This not only makes for a more pleasing appearance but also minimises potential tripping hazards.
Ornaments
Ornamental features are a common component of landscaped areas. These can range from decorative statues to ornate water fountains and are the perfect thing to include in your landscape design if you are looking to add a unique touch of elegance. Water fountains have the added benefit of providing a soothing effect due to the pleasant sounds of running water that they produce. Garden ornaments made of metal or stone with rounded edges will further enhance the peaceful aesthetic of your landscape.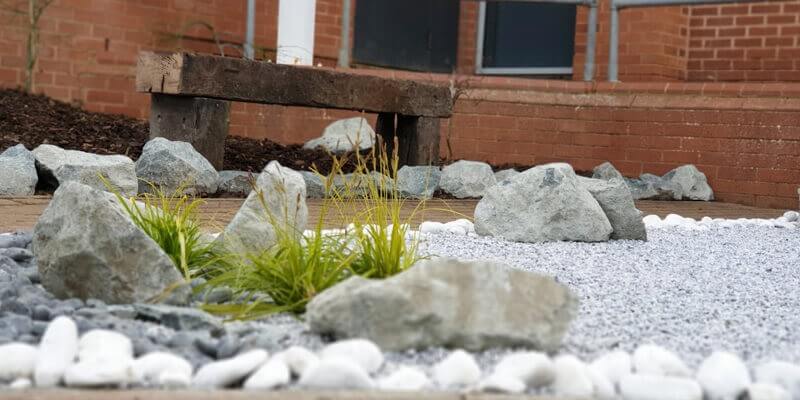 Neal Landscapes Project – Japanese Garden Installation
If you like the idea of giving your business premises a new lease of life through landscaping but are unsure about where to start, take a look at our ideas below!
Shrub Shaping And Trimming
Shrubs make for attractive features that not only create visual interest but also provide a way to neatly divide landscapes into sections. Maintaining their appearance through shaping and trimming is a must in order to create a sleek, professional look. Typically, shrubs are sheared into elegantly uniform rounded or squared shapes, which means that passing cars are also less likely to be scratched by protruding twigs. If you are interested in having the shrubs on your site professionally pruned, please do not hesitate to get in touch with our team today.
Flower Displays
One way to make your commercial premises look less dull and dreary is to install hanging flower displays on the exterior walls of your buildings. This will add a much-needed pop of colour to your site, and you could even choose a variety of plant that grows flowers that are the same colour as your company logo for an ultra-professional, uniform look. By installing your flowers in these wall-mounted displays rather than on the ground, you will avoid losing them to hungry herbivores or harsh weather conditions.
Moss Removal
When thick, brown or green moss grows over paved areas, it not only looks unsightly but can also form a slipping hazard. If you have noticed this on your business premises, it may be time to consider having it removed. Our moss removal service is ideal if your landscaping budget is small since it can be completed relatively quickly but results in a noticeably neater landscape.
Japanese Garden Installation
Installing a Japanese garden is a brilliant way to bring peace and tranquillity into your business premises, which will be excellent for employee morale. Characterised by decorative stone, an abundance of greenery and water features, Japanese gardens look stunning and provide the perfect space for relaxing during lunch breaks. If you don't want to sacrifice a large portion of land, you can always dedicate a small corner to building your Japanese garden, leaving the rest as open space.
Grass Trimming
An immaculate lawn will leave an excellent impression on any site visitors or potential clients. Please do not hesitate to get in touch with the Neal Landscapes team if you would like to benefit from our services. With years of experience and all the specialist equipment required to produce the highest quality results, we can guarantee that you'll be blown away!
Tree Removal
While, as nature lovers, we like to avoid having to remove trees as much as possible, it is sometimes necessary to do so. For example, if a tree is causing an eyesore on your commercial premises or, even worse, the roots have grown too much and are damaging building foundations, you will need to have it professionally removed. At Neal Landscapes, our dedicated team members have all of the required training, knowledge and equipment to safely, effectively and efficiently remove a tree. If you are in need of our services, please do not hesitate to get in contact with us.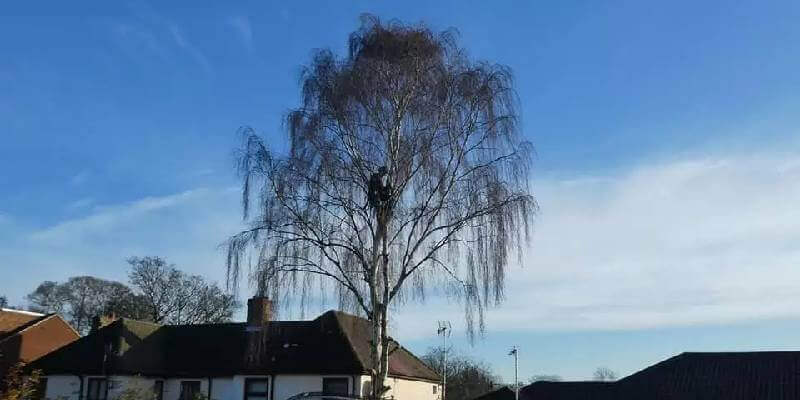 Neal Landscapes Project – Tree Removal
Commercial Landscaping Explained
Landscaping is a powerful way to transform your commercial property, not only aesthetically but also functionally. From creating a visually pleasing space with a soothing effect on the mind to minimising the risk of accidents occurring, all business premises managers can benefit from landscaping.
Whether you are in need of pruning services to tame unruly, overgrown shrubs or help with installing a beautiful flower garden, the team at Neal Landscapes are more than happy to help out. With many years of experience in grounds maintenance in Milton Keynes, we pride ourselves on the quality of our work and dedication to producing results that go above and beyond our clients' expectations. Please feel free to get in touch with our team to discuss your requirements and request a quotation.