Moss removal & hard surface cleansing
Neal Landscapes uses recognised jet washing techniques to provide professional and affordable solutions for all your hard exterior surfaces. Our state of the art cleansing equipment can remove moss, algae, dirt, grime, chewing gum, oil stains, tyre marks and graffiti from a variety of hard surfaces. As a result – rejuvenating them to look as good as new.
Experienced cleaning technicians will clean block paving, car parks and playgrounds. We want to ensure that all of our services are safe. For this reason we use self-contained equipment to minimise the amount of spray towards public areas.
Graffiti / chewing gum removal
With vast experience in removing graffiti from multiple surfaces, we visit the site, plan the safest course of removal then utilise the most effective treatment for each individual problem. Our specialised machines have allowed us to take on the challenge of chewing gum removal.
Chewing gum by law is classed as litter and in other words is a massive problem for every public area in the country. Using a completely self-contained chewing gum removal system we simply inject an environmentally friendly cleaning agent into our distinctive machine and combine it with the power of steam (reaching the soaring temperatures of 180°C).
As a result we are able to break down the chewing gum and when the steam and cleaning agent is released at the head of the cleaning wand it leaves little or no trace of the chewing gum ever being there.
In the long run, our chewing gum removal service has proven to be extremely environmentally friendly and cost effective.
Cladding cleaning
It's important to realise that no matter what cladding materials are installed on your building, regular maintenance will always be required because the panels themselves can quickly corrode when untreated.
For this reason, we will inspect, wash and thoroughly clean your buildings with an extensive cladding cleaning service no matter what age, material, height or length the panels are.
After all we have carried out our comprehensive jet washing cleaning services on over 1,000 clad & brick buildings – including supermarkets, retail buildings, warehouses, logistic & distribution centres, industrial units, showrooms, shopping centres, offices, furniture retailers and university buildings.
Benefits of Jet Washing?
Free Quotations
40+ Years Combined Experience
Removes Graffiti, Algae & Chewing Gum
Environmentally Friendly and Safe
SafeContractor and Constructionline Approved
City & Guilds Qualified Cleaners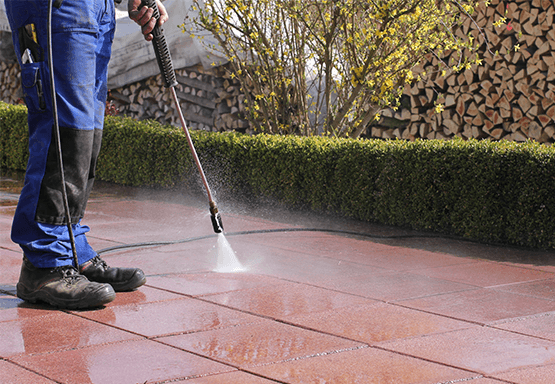 Spotless Pavement – Good as New
"The concrete pavement outside our office had been filthy for months. We decided enough was enough and spoke to James at Neal Landscapes. He suggested a thorough jet washing service and he was spot on. The pavement now looks as good as new – a great job, really well done, thank you."
Judith Brooker
12th November 2016