As a commercial property owner, first impressions remain imperative. The exterior of your building must maintain an immaculate appearance in order to continue building a high reputation. Not only is it vital to create a good impression for your employees, but also to attract visitors and ensure that your competitors recognise that you are a reputable company. In taking time to care for your property exterior, you instantly form the idea that you are a business that appreciates quality and takes pride in the impact that your brand has on outsiders.
With the above in mind, the most effective way to guarantee a positive first impression is to invest in commercial maintenance. It is inevitable that your property will go through wear and tear, which means that handling situations when they begin to cause a problem will not work towards your advantage. Through commercial maintenance, on the other hand, you can ensure that all aspects of your premises are taken care of, and issues can be detected before they have a chance to grow. If you are yet to consider enlisting the professionals to manage your site, then here we answer the question 'what is commercial maintenance?'
What Is Commercial Maintenance? A Full Guide To Maintaining Your Corporate Premises
One of the most significant benefits of opting for a commercial maintenance contract is that it is rare that you, as the property owner, will ever need to get involved in hands-on work. This means that you will be able to put your sole focus into running and growing a successful business.
There are a variety of reputable companies that specialise in virtually every aspect of your commercial property that requires maintenance from landscaping to cladding, meaning that you will never be short for expert knowledge. Their teams will work with you to devise tailored contracts based on your schedule, ensuring that their site visits do not cause any disruption to daily operations. There will also be no need to invest in equipment as teams will bring almost all of the tools that they need to carry out tasks safely and to a high quality. Professionals would have undergone extensive training in their area of expertise, so they will work towards an approved process that guarantees results.
Once you have implemented a commercial maintenance plan, you will then have peace of mind that your property meets the latest health and safety regulations. As a public building, you are responsible for guaranteeing that all visitors and employees are safe from all on-site dangers and are not at risk of injury – maintenance contracts will help to ensure this.
For those who have recently moved into new premises or hope to begin outsourcing their building maintenance, below we have devised a guide to all of the essentials that you must factor into your plan:
Grounds Maintenance
Electrical Appliances
Plumbing Systems
Window Cleaning & Maintenance
Exterior Cladding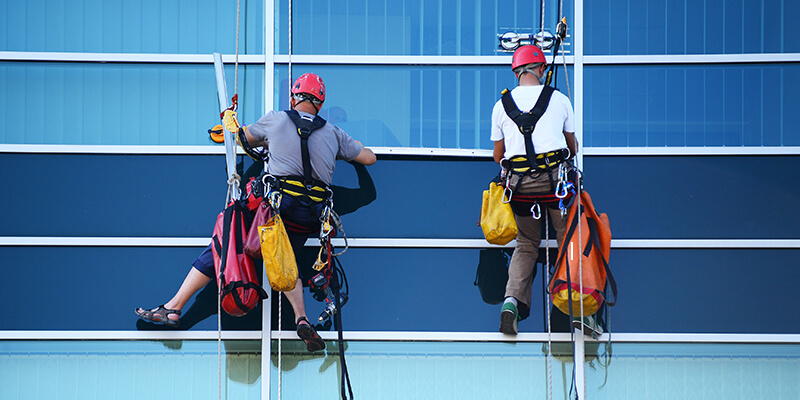 Grounds Maintenance
Professional grounds maintenance is one of the critical ways of sustaining both appearance and safety on-site. No potential client, customer or even employee wants to arrive at a building to see overgrown hedges, dead plants or a site filled with unsightly weeds and litter. It will instantly create a negative impression of your business before they even had the chance to step inside.
Luckily, our team at Neal Landscapes specialise in grounds maintenance Milton Keynes and will create tailored maintenance contracts suited to your requirements. Many different services are involved in the term 'grounds maintenance' including shrub pruning, grass cutting and leaf clearances, all of which work towards creating an attractive, safe environment.
During the winter months, there are significantly more potential dangers on your grounds, the main of which being broken tree branches and slipping hazards caused by fallen leaves. A vital component of ground maintenance involves assessing and maintaining the health and condition of all trees on-site. This means that if our tree surgeons believe that branches are becoming weak or are beginning to rot, they will suggest pruning and cutting them back. Tree pruning alone dramatically decreases the likelihood of an accident, as well as the costly claims if a branch was to fall onto a vehicle in the visitor car park.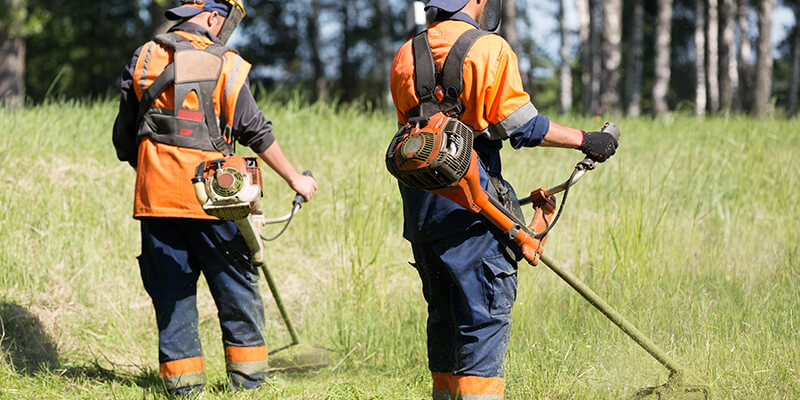 Electrical Appliances
Every electrical appliance inside your commercial building is viewed by The Health And Safety Executive as a potential danger. The law states that every piece of electrical equipment must undergo adequate checks, inspections and testing before you, as a business, meet legal standards.
There are simple checks that you, or responsible team members, can carry out independently to depict whether equipment remains in good condition. Before beginning any type of electrical inspection, it is critical to make sure that all items are switched off and unplugged. You can then continue to inspect the condition of the plug and cable, keep an eye out for any exposed wires or botched DIY fixing jobs. If you notice that any amateur repair techniques such as taped wires, stop using the device and seek an expert to replace any wiring professionally. Also, be wary of any burn marks or discolouration as this is a key indication that the appliance is overheating.
Not only is it essential to carry out sufficient electrical checks, but also understand the tell-tale signs that there may be an internal problem building. Signs such as flickering lights, a burning smell and a faint buzzing noise are the most prominent. If you do notice any of these, no matter how small the problem may seem, it is highly recommended to enlist the help of a professional commercial electrician to take a look – it is better to be safe than sorry. For more information on the most common commercial electrical malfunctions, take a look at C&J Electrical Services.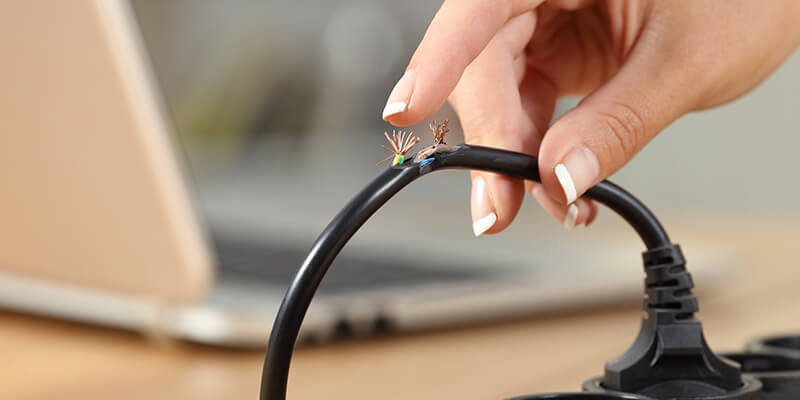 Plumbing Systems
A water system is used on a daily basis and is often seen as the core of a commercial property. A fully functioning sequence of pipes is required to heat the building, flush toilets and wash hands in bathrooms, provide employees with drinking water and the ability to cook, along with an endless list of additional uses. This means that even a slight internal issue could cause an immediate impact.
To ensure that you minimise the risk of plumbing and water system damage, we highly recommend opting for a quarterly inspection with a professional commercial plumber. Although there may not be any prominent, visible damage, booking a regular assessment will allow potential problems to be spotted and resolved before they have the chance to snowball into a complete system breakdown. During a plumbing inspection, not only will your plumber aim to detect any leaks, corrosion or blockages, but they will also advise on how you may be able to save water and effectively cut your bill cost. For more tips on how to begin saving water as a business, take a look at So Clean.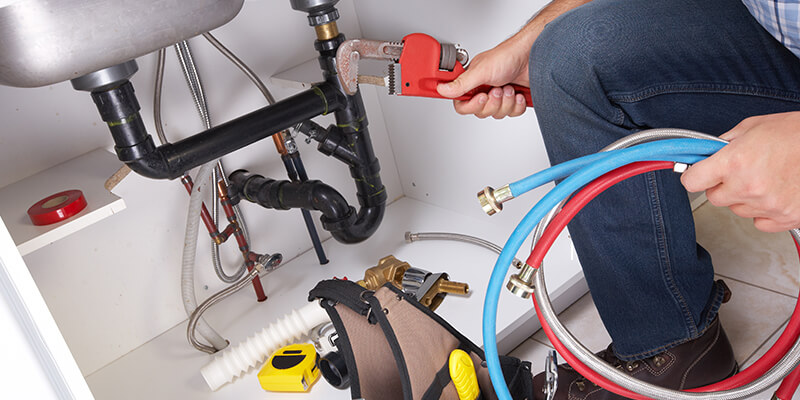 Window Cleaning & Maintenance
In a large commercial property, particularly an office building, window cleaning is most definitely a task that cannot be carried out single handily. However, the essential task is vital to ensure that you can maintain an immaculate condition.
How often window cleaning is required depends on the location of your premises. Those who are situated central of a busy town or city, on the high street or facing a non-stop dual carriageway or motorway are likely to experience a higher build-up of dirt and debris. Essentially, the more passersby and local traffic, the more regularly you will require window cleaning.
As cleaning all windows on a large office building will require the use of supported scaffolding or even suspended platforms, many property owners opt for booking the service with commercial window cleaners twice a year, which is plenty. However, for areas that are visible to the public all year round, such as the ground-floor reception, you may want to consider cleaning these windows on a quarterly basis. As work will be done on the ground floor and no professional equipment will be required, the task can be completed by an on-site caretaker.
Not only is it critical to ensure that windows are clean, but also that they remain in good condition to prevent damp or mould. Over time, window sealant can start to deteriorate, crack and lift, making it incapable of preventing a build-up on condensation, which will eventually lead to damp and mould. Condensation occurs the most during the colder months when the warm air from the inside hits the cold windows.
Although damp and mould have an unsightly appearance, they can also cause a number of health issues. Regularly being surrounded by these issues and inhaling mould fragments begins to inflame the airways causing a tight chest, coughing, wheezing and sore throat. The NHS website has a full guide on the health effects of damp and mould, which is worth reading to ensure that no employees or visitors fall ill due to missed warning signs.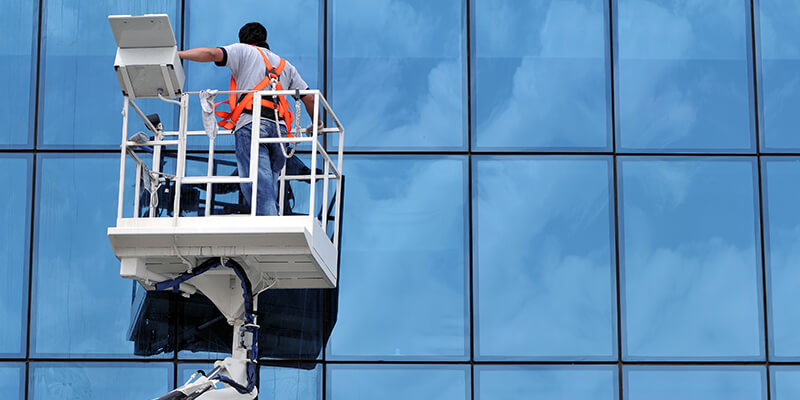 Exterior Cladding
The paintwork of a building is likely to suffer the most damage, not only does paintwork go through day-to-day wear and tear, but also has to withstand the constant change in weather conditions. This means that there are several different issues your exterior paintwork may experience including cracking, blistering and flaking, all of which disrupt the overall appearance of your property.
Many different factors contribute towards the overall longevity of your exterior paintwork, and it all begins with the initial application process. Cracking is often caused when the surface has not been sufficiently cleaned before application or alternatively, too many layers have been applied before the initial coat had the chance to thoroughly dry, which is also a prime culprit for blistering. Flaking, on the other hand, is usually caused by the type of paint used. Those that use masonry paint are most likely to experience flaking as UV light from the sun breaks up the ingredients in the emulsifier in the paint, which eventually will cause flaking.
For those who are looking to repaint the entire building, we strongly suggest contacting a professional cladding spraying company who will be able to respray your property, providing long-term results. All paint used will be colour-matched to suit your existing cladding panels for a seamless finish.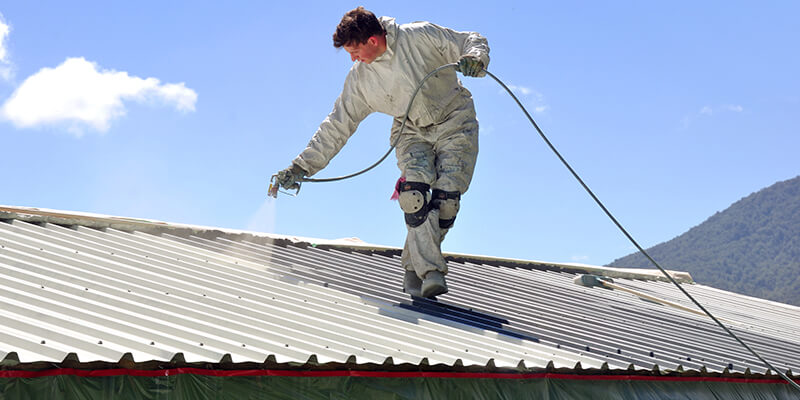 Guarantee A Positive First Impression!
With initial planning and research, ensuring that your building remains in immaculate condition without compromising on quality is an easy task. Enlisting the help of professionals is always highly recommended as not only will they be able to use their skills to complete jobs quicker, but they will also have the correct equipment and industry-related knowledge to ensure the final result is of a high standard. Always take into consideration the time of year when scheduling maintenance tasks as it can impact how successful the outcome is. For example, paintwork touch-ups or respraying should ideally be completed during the summer to allow the paint to adequately dry, whereas, landscaping may require more during the autumnal and winter months.