When the topic of tree surgery is mentioned, many assume it simply involves the removal of a tree, however, although this is one of the most popular, there are in fact many different components that make up this unique service. A professional tree surgeon can be called to deal with a tree in ill health or even just to cut back some limbs to free space in your garden.
To give an insight into the many different jobs and projects that can be carried out, we've devised a list of the top five tree surgery services.
What Are The Main Tree Surgery Services?
Over our many years of working in the horticulture industry as tree surgeons in Milton Keynes, we've dealt with a variety of different tree related problems ranging from pests or diseases damaging plants to overhanging limbs blocking the sun, many of which are small issues people are aware we can solve.
Working alongside commercial businesses means that tree services are mainly used to maintain safety, but can also be used to keep up aesthetic making your garden look tidy and presentable. Many different services are involved in tree surgery, some of which becoming more popular than others, take a look at our top five.
1. Stump Grinding
Stump grinding can be carried out as a singular service or alongside a full permanent tree removal as the last stage of the process to discard all traces.
Unless you plan to make use out of an old tree stump to make a garden seat, plant stand or even sculpture, many property owners opt for stump grinding to remove the risk of diseases and fungi from spreading. Honey fungus is one of the most common growths on a tree stump and can be spotted through honey coloured toadstalls growing around the stump.
Stump grinding can be carried out at any point of the year using powerful equipment that uses a rotating motion to chip away at each layer of the wood. Once the root is exposed, this will also be removed to stop re-growth, and you will be left with a clean hole in the ground that can be filled with soil and then either re-covered with turf or plants.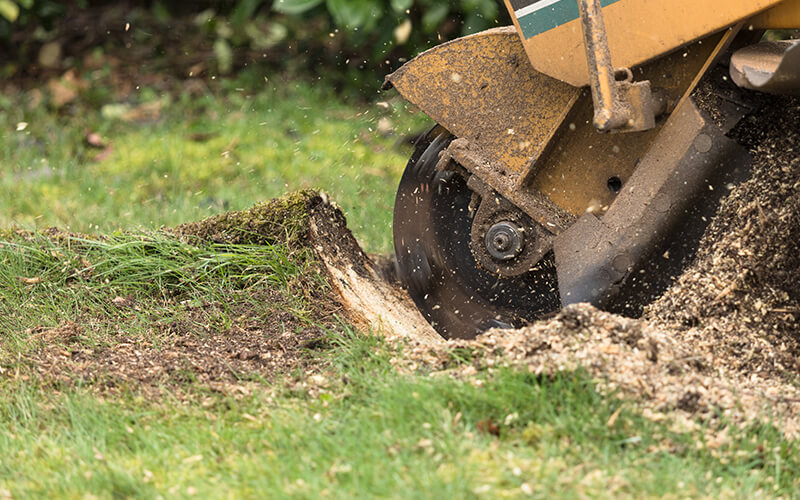 2. Tree Surveying
A tree surgery can be performed on both private and public land if you are unsure of the health of a tree, are planning a project or require proof that your premises meets all on-site safety regulations. During a tree survey, aspects such as the condition of the tree, signs of fungal diseases, tree life expectancy and management recommendations are all covered. A survey will also point out potential future hazards such as whether there is a risk the tree will fall in high winds or if pests may inhabit.
As a commercial property, enlisting the help of a professional to draw up and document a full tree survey will help you to meet all legal obligations and prove to your insurer that you do not represent a danger to visitors.
3. Pollarding
Pollarding relates to the pruning of either a tree or shrub to ensure that they do not overgrow their allocated space, block sunlight or disrupt wires, streetlights and overhead power lines. During pollarding, normally the entire crown of the tree is removed.
If your tree is relatively small or you are dealing with an overgrown shrub, DIY pruning can be carried out without the need for professional help. You will need to invest in the correct tools such as secateurs, long reach pruners and loppers. However, as the tree grows taller, you will need to enlist a tree surgeon with the correct safety apparatus and large-scale equipment to cut back branches. To work on a tree from a height, aerial work will be required. Aerial work can only legally be carried out by a fully trained arborist who has all of the personal protective equipment such as harnesses to remain safe.
It is recommended to carry out pollarding during either late Winter or early Spring just before trees reach their prime growth period. For a full guide to pollarding, take a look at the RHS website.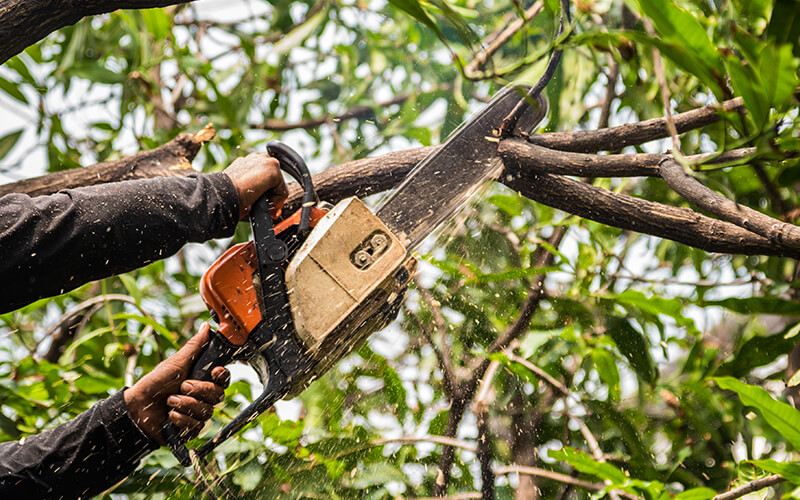 4. Crown Lifting and Reduction
In simple terms, the crown of the tree is the top part which includes the stems, leaves and supports photosynthesis. The crown can be lifted, raised or reduced depending on how much of the tree you want to lose.
Crown lifting means that only the lowest branches on the tree are removed and is used to either prepare the tree for future removal, or to help higher branches to receive more light and grow healthier. A traditional crown lifting does not include the removal of large branches which are growing directly from the tree trunk.
Crown reduction relates to the process in which the height or width of the tree is reduced; it means that only the outer branches and foliage is pruned. People often opt for a crown reduction to help their tree fit into its allocated area better, stop the tree from blocking sunlight or simply to make the shape more presentable.
5. Full Tree Removal
There are many reasons as to why a tree may need to be completely removed such as severe damage caused by a storm, it is leaning in a dangerous direction, the tree is experiencing internal decay, or you simply want to re-landscape your garden.
A tree cannot be removed alone without the help of a fully qualified, experienced tree surgeon as the job can be incredibly dangerous. Specialist equipment must be used, and a tailored plan of action must be put in place to ensure that no other surrounding are damaged during removal.
Most arborists will give you the option as to whether you want to recycle your tree into firewood, if not, they will also deal with disposing of all waste in an environmentally friendly manner.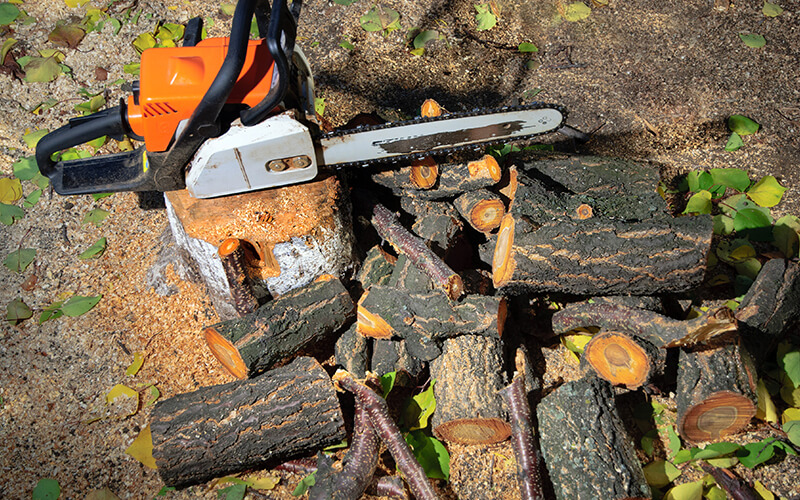 The Most Popular Tree Surgery Services
Tree surgeons are specialists in a wide range of different services, from nursing a tree in ill health to pruning the branches to maintain a neat and tidy appearance. Most tree surgeons are even able to visit you at your property to assess the health and condition of your tree to give expert advice on whether any services are required and what to do in the future.