The majority of office buildings are made using a concrete structure complete with large-scale windows, which means that one of the only ways to add a splash of colour and personality is to incorporate landscaping. A commercial garden brimming with life is a fantastic way to create a positive first impression while ensuring that the exterior of your property is an accurate reflection of your brand.
However, with the ever-changing British weather, combined with a constant footfall of visitors, it can be tricky to put in place processes to maintain your office building landscape. Luckily, having specialised in landscaping in Milton Keynes for many years, we have a host of handy tips on how to keep your grounds looking pristine.
6 Tips For Maintaining Your Office Building Landscape
Well-maintained landscaping can make a significant impact on how potential clients, customers or even employees view your business. There is nothing worse than arriving on site to overgrown hedges and piles of litter; not only does this create the impression that your company is careless, but it also poses a number of safety hazards. It is for this reason that your landscaping should be used to both create an aesthetically pleasing exterior, as well as to maintain health and safety. Find out more how to achieve this with ease through using our tips below: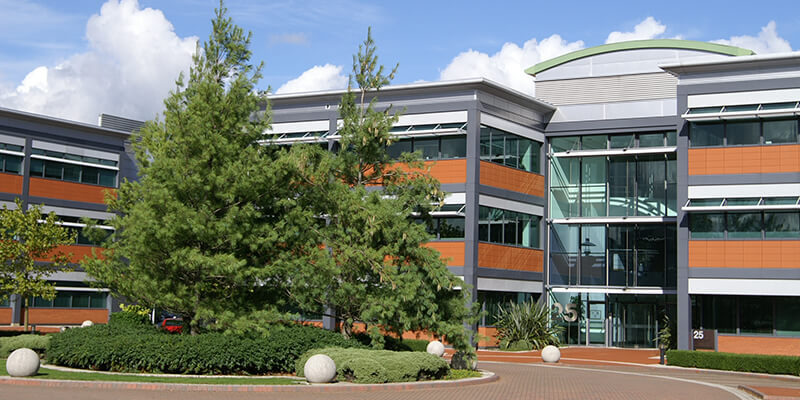 Regardless of the scale of your site, grounds maintenance will always prove hugely beneficial. It means that you can continue to focus on running a successful business while professional landscapers take care of the exterior of your property. There is only so much that site caretakers can do to preserve the condition of your landscaping, especially if you have yet to invest in the costly equipment used by a commercial maintenance company. This means that through scheduling regular visits with your chosen company, not only can you keep your site in immaculate condition but you can also save a significant amount of money in the long run. As well as saving money on investing in expensive equipment, you will also eliminate the risk of potential payouts for injuries caused by a poorly-managed property.
When it comes to grounds maintenance, the service covers far more than just landscaping, making it a worthwhile investment for your business. Along with planting new flowers, cutting grass and weeding, your contract will also include aspects such as leaf clearance, moss removal and site clearances. Ultimately, just about any job that you require around your property that aims to improve the aesthetics and safety of the site can be completed during your maintenance visits.
With a combined experience of over 40 years, the team at Neal Landscape provide tailored grounds maintenance in Milton Keynes and the surrounding areas to clients in a wealth of industries. There is a range of different maintenance packages available depending on the scale of your site and budget, each of which can be customised to fit with your requirements. Our team are always more than happy to arrange visits for a time and date that works for your schedule to ensure minimal disruption to daily operations. Packages can also be altered to fit with the demands of the time of year, for instance, over the Autumn you may need more time to be spent on leaf clearances to prevent gutter blockages and slipping hazards. Feel free to contact our team to talk through options.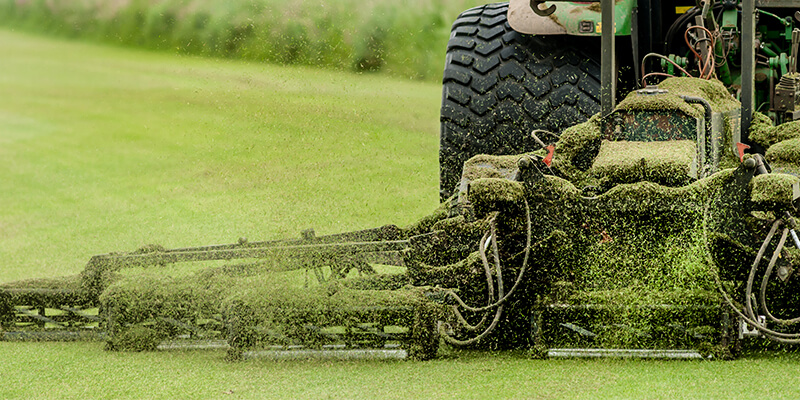 You would be surprised how much of an impact a problematic tree can have on the condition of not only your landscaping but also your property. It is for this reason that we highly recommend ensuring that any trees on site are regularly surveyed to highlight any potential issues and resolve them before they have the chance to deteriorate further. This must always be completed by qualified tree surgeons who have the knowledge and skills required to find an effective solution. While they will always try hard to find ways to save trees, if they have reached a state beyond repair, unfortunately, they will have to be removed. Some of the most common reasons for tree removal include:
Diseases – One of the most common reasons as to why a tree may reach the end of its life is diseases, which in some cases, can be virtually undetectable until it is too late. Take a look at Woodland Trust for a full list of the key tree pests and diseases for more information on signs to look out for.
Damage – Although trees are incredibly sturdy, they can often be damaged by adverse weather, in particular. We have all seen trees which have been broken in half by high winds or a lightning strike, which are then typically removed quickly to prevent safety hazards.
Disturbances – In some cases, the reasoning behind a tree removal may be as simple as it is beginning to cause disruptions to the surrounding building. This often occurs when a new office complex is being built, and the tree is removed because its roots will disturb the foundations if left to continue to grow. More details on how trees can impact buildings can be found in our previous article.
If you have a problem with a tree on your office premises, then please do not hesitate to contact our team. As reputable tree surgeons in Milton Keynes and the local areas, they are always more than happy to schedule a survey to assess the condition of the tree and advise you on the best route.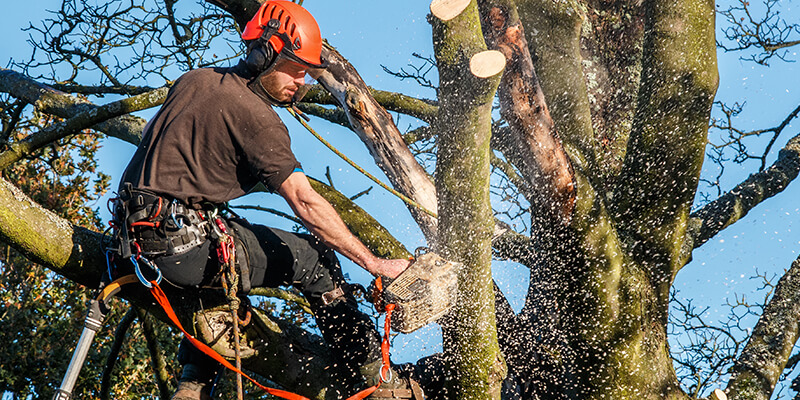 As mentioned above, maintaining a high standard of health and safety is imperative as a commercial property owner. One of the most common causes of not only injury but also damages is unkempt greenery, whether this may be trees, hedges or bushes. Without regular maintenance, these can all quickly become overgrown, particularly during the late spring and early summer, causing a whole host of problems. Branches and hedges can begin to grow over pathways, causing tripping hazards to visitors, which if resulting in an injury, can lead to a significant claim against your business. This can also cause problems around car parks as if a branch was to fall onto a car and cause damage; then you will be liable to pay out for repairs.
With this in mind, a fundamental way to maintain your office landscape is to ensure that clearing pathways and carparks from obstructions are always factored into your visits. This will allow you to have the peace of mind that those walking or driving around your site remain safe, saving your business both time and money.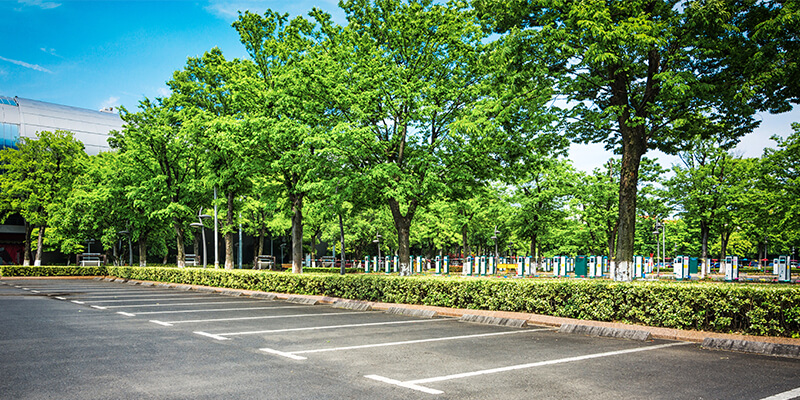 With the heatwave lasting much longer than expected this year, we have experienced our fair share of unbearably hot days. In fact, 2020 brought us the hottest August day in 17 years with temperatures reaching as high as 36.4C. Although keeping ourselves safe and cool in the warm weather is of utmost importance, it is also vital to consider how your landscape may be suffering from the high temperatures and constant sun exposure. Heat can cause immense stress on plants and other greenery, causing them to dry up and if left unresolved, eventually dying.
With the above in mind, it is imperative to ensure that particularly during the summer months, you maintain your office building landscape by feeding it with plenty of water. Unlike your garden at home, this may be a tricky task to complete with a hose or watering can, which means that if you have a large patch of landscaping in your property, we suggest investing in sprinklers. Quality sprinkler systems can be picked up from retailers such as Irrigation UK and once installed, will allow you to keep your landscape healthy and watered with ease.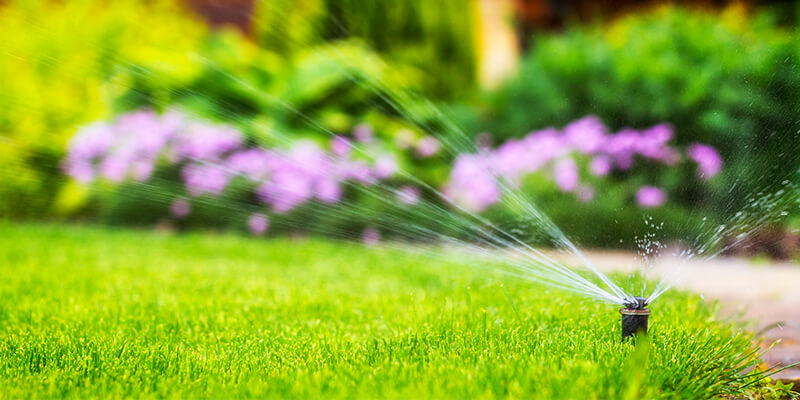 We are all more than aware of the host of problems that come alongside littering, and as an office building owner, failing to control litter can have a detrimental impact on the condition of your landscaping. Along with looking unsightly, the accumulated litter will also begin to produce a foul smell and attract unwanted pests. Rats, in particular, will be drawn towards piles of litter and are one of the biggest culprits for carrying germs, which can, in return, affect the health of those on site.
There are many different ways in which your business can succeed in litter management, and it all begins with implementing processes which makes it as straightforward as possible for staff and visitors to prevent the build-up of litter. First and foremost, it is crucial to ensure that you place as many bins around your site as possible, both for general waste and recycling. Bin Shop stock a vast range of litter bins for commercial customers in different styles which allow them to blend into your landscaping without dampening the aesthetics. You should also incorporate litter picking into your maintenance package and if not possible, encourage staff to take it in turns to schedule litter picking sessions into their working week to ensure that the site remains clean.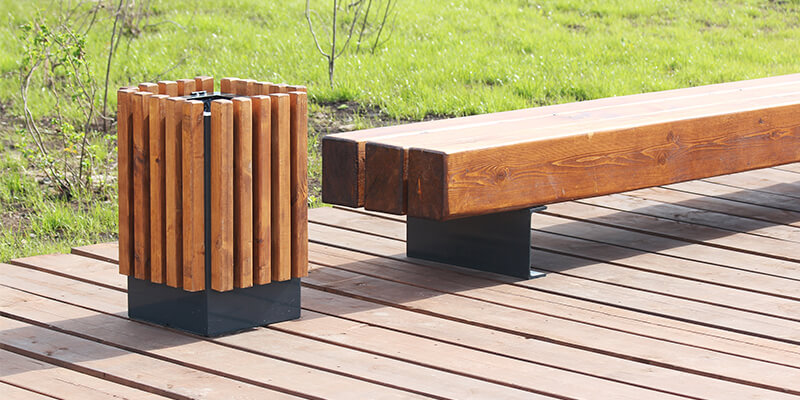 A great way to ensure that your landscaping remains in immaculate condition is to incorporate an allocated seating area. This will prevent staff and visitors from potentially damaging plants or foliage from sitting down or walking on top of spots which are more delicate and cannot withstand footfall. It also means that you can control litter more effectively as if individuals are only enjoying their lunch or an afternoon coffee in an area surrounded by bins, they are less likely to leave items.
Creating a seating area couldn't be more straightforward, and there are a host of ideas on how you can incorporate this feature into your existing landscaping. We would always suggest opting for an open area of grass as this will allow plenty of room to place seating without disrupting plant life. If possible, choose a spot that has a shaded area for those who want to enjoy fresh air without being in the direct sun. The seating itself can either be conventional picnic benches or permanent solution such as booth seating; both of which are fantastic for creating social spots.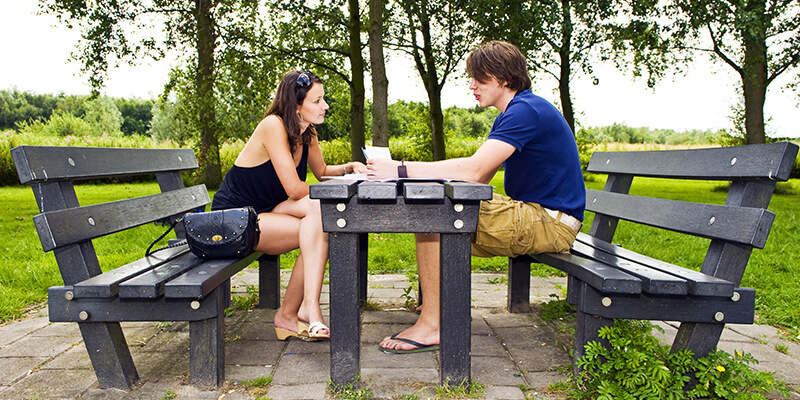 Creating A Positive First Impression Through Office Landscaping
There is nothing more impressive than arriving at an office building to see a beautifully kept landscape brimming with life; it is just one of the many proven ways that you can guarantee a positive first impression. It is for this reason that you should always spend time putting in place processes that will ensure that your landscape remains in immaculate condition, free from any potential dangers. Through a combination of encouraging all staff and visitors to take care of their surrounding, along with the help of professional landscaping teams, maintaining the exterior of your office building couldn't be more straightforward!