Christmas just wouldn't be the same without a Christmas tree standing in the living room with flashing lights and glittery baubles. Other than decorating your Christmas tree, one of the most exciting parts of the festive season is going Christmas tree shopping and picking the one that would look perfect in your home. A big decision that you will have to make is whether you opt for a real or fake Christmas tree. For those that choose to have a real one, here is a guide of how to look after a real Christmas tree.
How To Look After A Real Christmas Tree: A Neal Landscape Guide
There is a lot that you need to take into consideration when using a real Christmas tree in your home or office. The type of tree, where it comes from and how you look after it, are all factors that contribute to the life of your tree. For this reason, knowing how to pick the right Christmas tree and ways to look after it can help to prolong its life.
As reputable tree surgeons in Milton Keynes, we have a whole host of tricks and tips for maintaining the beauty of trees. So, without further ado, here are some of our expert and professional advice on looking after your Christmas tree.
Types Of Christmas Trees
Christmas tree is a general term used to describe the types of trees that are most commonly found within your local garden shop for sale. Each Christmas tree has a different appearance, meaning that it will depend on your desired look as to what type of tree you have. Some are wider, and some are taller, so thinking about where your tree will be positioned will also have a big impact on the type of tree that you opt for. To help you decide which tree is best for you, here are the four most common types of tree used for Christmas:
Nordmann Fir
The Nordmann Fir is the most popular tree chosen for Christmas, this is because it is lovely and full and has the perfect tip at the top of the tree to place your star or angel. The branches are also soft, making them ideal for a home with younger children, and to top it all off, the colour is a beautiful blue-green tinge. If you are someone that does not want the tree to smell due to allergy reasons, personal preference or to be pet-friendly, then the Nordmann Fir is your best option as it has no scent
A question that a lot of clients ask us when caring for their Christmas tree is whether it will make a mess on the floor. Luckily, with the Nordmann Fir, you won't have to spend the whole of the festive period picking up needles from the floor, as this tree holds onto its needles very well. This allows you to place your delicate and bright decorations on every strand without causing mayhem.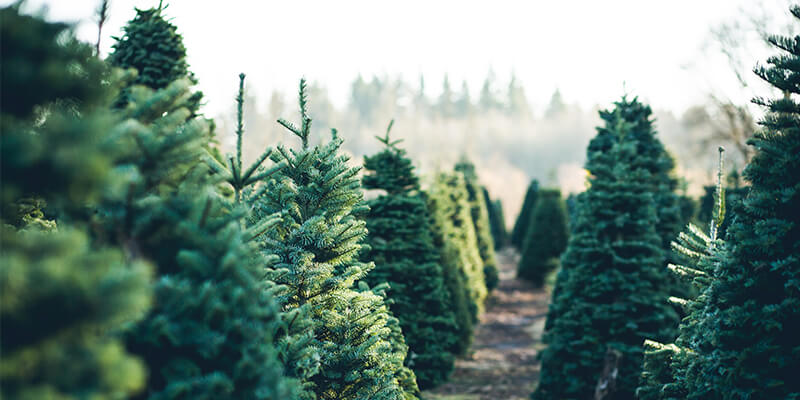 Norway Spruce
Unlike the bushy appearance of the Nordmann Fir, the Norway Spruce has a more triangular appearance with a distinctive Christmas tree look. The branches and needles are shorter and thinner with a white speckled line, giving you that traditional white Christmas feel. It comes with an extremely pleasant sweet smell due to its ability to grow fruit cones with a diamond shape.
If you are looking for a Christmas tree that gives you a homely and Christmas feeling as soon as you enter your home or office, then the Norway Spruce is your best option. Its ability to distribute a soothing and fresh smell puts you into the festive spirit from the very moment that it is put up and decorated. You can find out more about the Norway Spruce tree by visiting Woodland Trust's website.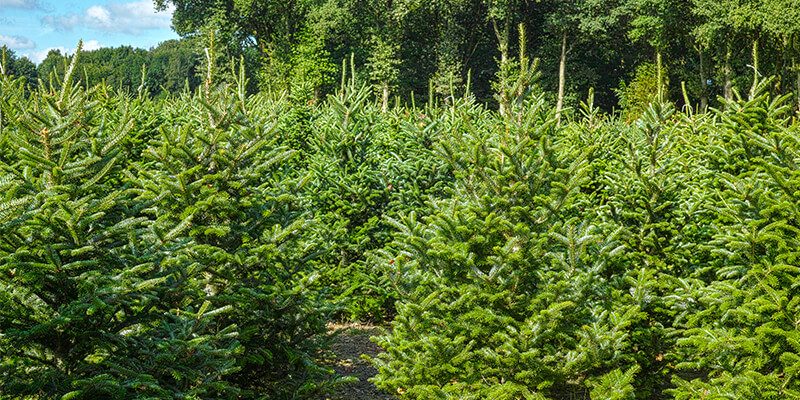 Serbian Spruce
The Serbian Spruce is a relatively new type of tree that has become available to buy. The look of this Christmas tree is very different from the two trees mentioned above, as instead of a thick and wide shape, it is a slender and tall shape. This makes it a good option for those that do not have a large space to fill, for example, in the corner of an office or down a corridor. If you need help with maintaining and planting trees in the office, then take advantage of our office planting in Milton Keynes by contacting the team today.
The only downside of the Serbian Spruce is that you will have to put in a lot of money to buy one that is full and the thinner you need the tree, the barer it tends to look. Also, these trees do tend to be rather tall, meaning that you may not be able to place your star on the top. However, having said that, the needles and branches on the Serbian Spruce go to show why it may be a little pricer, they are stunning to look at and look striking when covered in bright Christmas lights.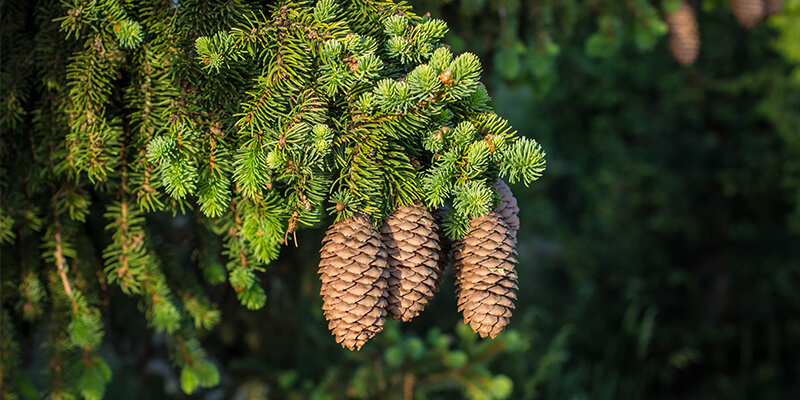 Alberta White Spruce
If you are looking for a miniature Christmas tree for your bedroom or to have sitting in the office, then an Alberta White Spruce tree is perfect for you. It has dense branches meaning that it won't look pathetic despite its small stature when propped on your table or even the window sill.
This type of tree can easily be maintained as all you need to do is pop it into a pot and place it somewhere in a sunny spot. It is also a good option if you would like to maintain your tree all year round, as it can be kept throughout the year as long as you properly take care of it. You can decorate your Alberta White Spruce with small baubles and fairy lights.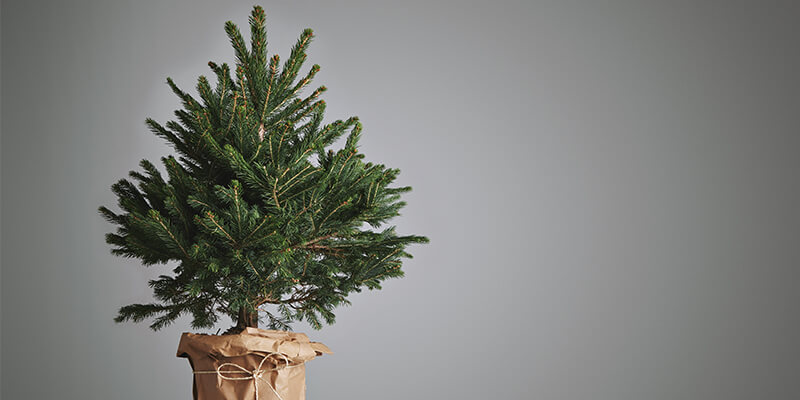 Buying The Perfect Tree
Once you have decided on what type of tree you would like to have this Christmas, it's time to go out and pick the perfect one. When you have not used a real tree before, it can be hard to know what to look for when choosing your tree and how early you should buy it. Although you may want to pop up your Christmas tree as early as possible, this may not be ideal for real trees as the longer you leave them indoors, the more likely they are to go brown and die. Having your tree in a pot can help to prolong the life of your tree, but you must consider the size of the pot in your home as well the size of your tree that can stand in it; the heavier the tree, the larger and heavier the pot. Having said that, most trees are cut down at the same time, meaning that regardless of when you buy your tree, it should have the same life span if taken care of.
Before you go and buy your Christmas tree, you should measure the space that you plan on placing it, as it will determine the size of the tree that you get. You wouldn't want to get home or to the office to find that your tree takes up the whole room. One thing that people do not often consider is placing their Christmas tree outside in the garden. By doing this, you are able to prolong the life of your tree, you won't have to worry about the size, and any worries about the smell and fallen needles are eliminated.
The feel of the tree will have a significant impact on whether it is the perfect tree to take home. When you run your fingers through the branches and needles, it should feel pliable and does not fall off. If you can, try and lift the tree ever so slightly of the ground and let it go, when it hits the ground, very few needles should fall off.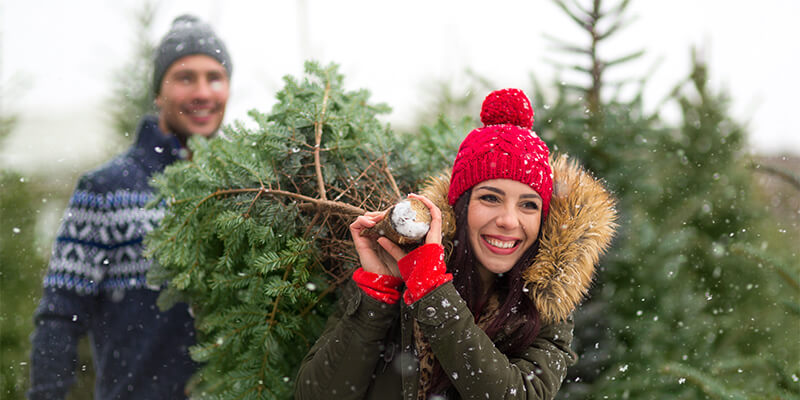 How To Look After Your Christmas Tree
There are multiple factors that contribute to the longevity of your Christmas tree, and making sure that you keep up with regular maintenance will have your tree looking full, colourful and fresh all season. The majority of Christmas trees will last around five weeks when placed inside the home, but could last even longer depending on how often you treat them. Here are a few ways you can maintain your Christmas tree:
Picking The Tree
The tree that you pick will contribute to the length in which it remains looking fresh, so it is important to make sure that you pick the right one. A healthier tree will last a lot longer than one that is already starting to look brown. The easiest way to make sure that your tree is the healthiest it came to be, is to try and head over to a local Christmas tree farm, where the trees are often cut down upon request. When you pick one up from your local garden centre, the tree would have likely been on a lorry and subjected to high winds during transit.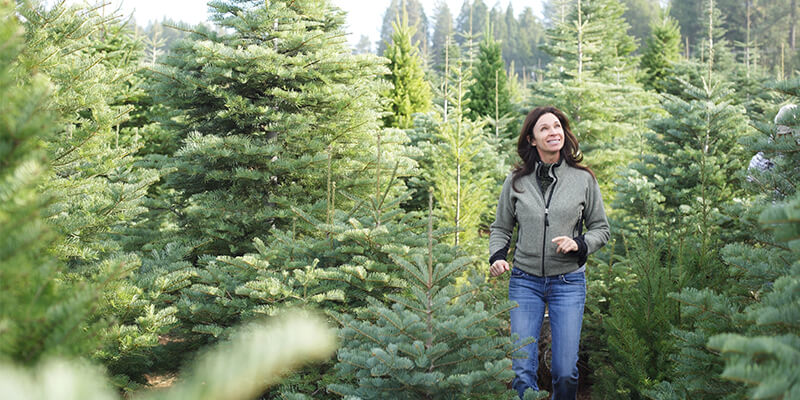 Trim the Trunk
When purchasing your tree, if it is possible, ask for the trunk to be freshly cut, even if it is already cut; this will add some more water to the tree in which it can absorb. If you are not putting your tree up straight away, place it in a bucket of water in an unheated location such as the garage and then cut the trunk again once you put it up.
Watering
One of the obvious maintenance tips that we can give you is to make sure that your tree is watered every now and then. You don't want to drench your tree in water as this can cause it to die just as much as not watering it at all. The best tip for knowing how to water your tree, is to fill up the stand with one-quarter of a litre of water for every inch of the trunks diameter. You do not need to add anything to the water as plain water is what it survives on in the wild, so it can survive on it in your home.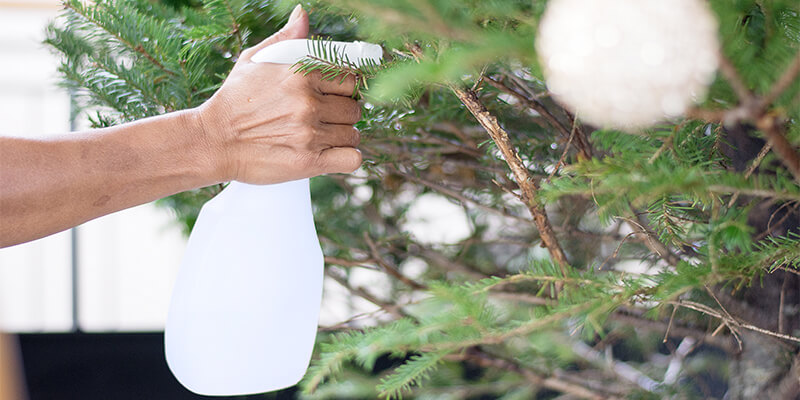 Keeping Away From Heat Sources
A common mistake that people make is to place their tree in the most convenient place for them, rather than for the tree. If you place your tree next to a heat source such as a radiator, it can contribute to the dying process of the tree as it dries it out. You should try to add some humidity to the air to prevent dryness around the house. If your home suffers from dryness, then you should consider using a humidifier to add a little moisture to the air.
Take It Down Before It Dies
When carrying out landscaping in Milton Keyes, we often find that common mistake that our clients make is to leave a tree in the hopes that it will bounce back to life with enough water and sun. However, when a tree begins to die, sometimes the best option is to remove the tree before it starts causing further problems. The same advice would go for your Christmas tree, meaning that you should try and recycle your tree before it begins to die. When the tree dies, it will start to 'malt' on the floor and could even make the home feel damp and leave a smell.
There are multiple different ways you can recycle your Christmas tree after it has been used. Some of them are as follows:
Take it back – some places will offer a service whereby you can return your tree, and they can recycle it for you
Use it for kindling – you could use the wood from your tree in your fireplace.
Pop it into your recycling bin – you could also cut the tree down and place it into your green recycling bin ready for it to be picked up by your local council.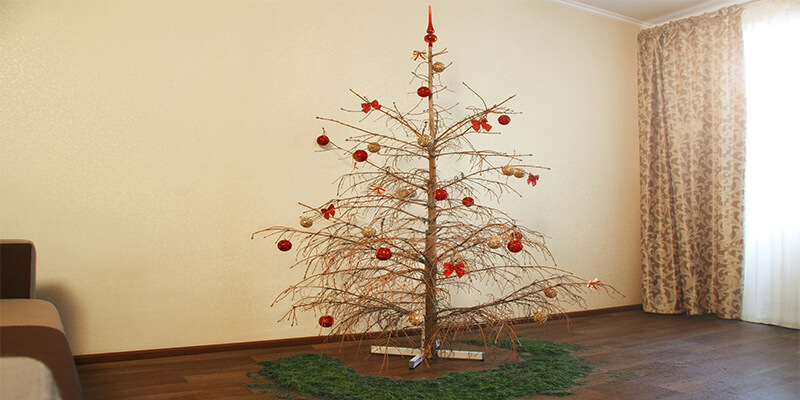 Looking After Your Tree This Christmas
From picking the tree itself to keeping up with its maintenance, there are lots of ways you can maintain the beauty of your tree throughout the festive period. We may be slightly biased, but we believe that the limited hassle that goes into maintaining your tree is well worth it, as you can enjoy the smell and feel of a real Christmas tree. If you need some more tips and would like help planting your office Christmas tree, feel free to take advantage of our landscape maintenance in Milton Keynes.