Being cooped up at home during the lockdown, and having the glorious weather on our side has meant that thousands of Brits have turned their hand to spending their days in the garden. Whether you have always had green fingers or have used gardening to keep you occupied over the quarantine period, transforming your outdoor space into a retreat to relax in the sunshine is a fantastic way to stay productive.
One of the most popular DIY projects that many keen gardeners have taken on is experimenting with growing their own produce. With trips to the local supermarket limited and many essentials still out of stock, there is no better time to begin planting homegrown alternatives. So, to give you a head start and some inspiration on where to begin, we have put together a guide to eight easy vegetables to grow in your garden.
Our Favourite Easy Vegetables To Grow In Your Garden
As a family-run business who have provided landscape maintenance in Milton Keynes for decades, we have spent almost all of our lives surrounded by nature. Whether it may be working with businesses to spruce up their property or venturing a little further afield to offer grounds maintenance in Bedford, we can most definitely confirm that there is no better way to relieve stress while staying productive than getting out into the outdoors. As for the time being, we are restricted to where we can visit; it is the perfect opportunity to use this time to your advantage and carrying out a project you may otherwise not have had the time for. Growing vegetables is something that is considerably more straightforward than you would expect, and it is ever so rewarding when you finally get to rustle up a meal using homegrown ingredients. While there are some vegetables that do take a lot of TLC to grow, there are others that are straightforward to plant and low maintenance. If you are a beginner, then we suggest opting for one or a few of these: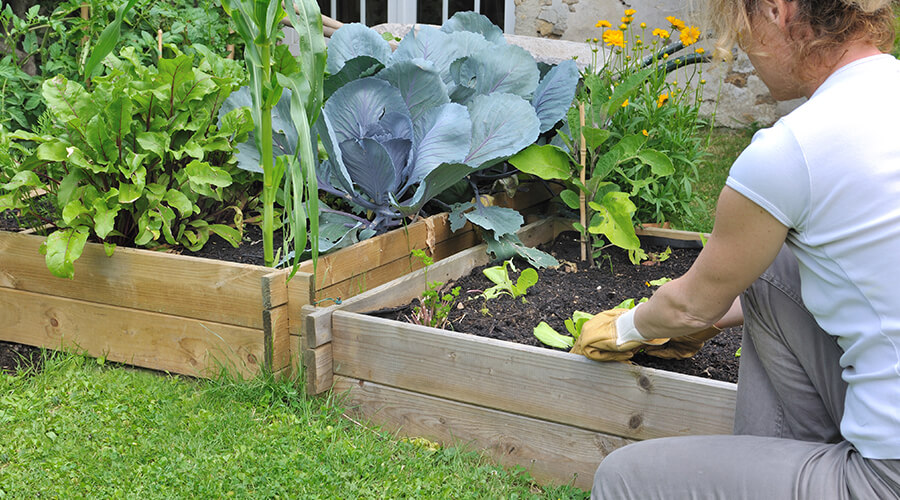 For those who have never grow their own produce before, salad leaves are a great place to start and if planted correctly, can mean that you can begin using your fresh leaves in as little as three weeks. They also fall into the category of 'cut-and-come-again' crops, which means that they will continue to regrow time and time again, all year round. It is entirely your choice as to whether you opt for growing your salad leaves indoors or outdoors, as well as what variety you go for. Nevertheless, they will always require the same environment, which will be a location that attracts the full sun and can be thoroughly drained after watering.
When sowing your salad leaves seeds, you can choose between all manner of container types, whether it may be a grow bag, basket or even salad bowl, just as long as it has plenty of drainage holes at the bottom. The seeds should be sprinkled on top of some soil before being covered in around half an inch of compost. When you notice that the leaves begin to grow, to ensure that the plants have enough space to grow, we suggest using your thumb and forefinger to gently thin a few of the seedlings. The salad leaves should be watered each morning, the earlier, the better, only when the soil is completely dry.
Although there are several different ways that you can grow potatoes, the grow bag method is by far the most straightforward if you are new to growing your own vegetables. The ideal period to begin the process is early March to the end of May, which means that you're just in time! Your potatoes will then be harvested and ready to eat anywhere from June to late October depending on when you planted them. When growing your seed potatoes, choose to place the bags in a location that will be exposed to sunlight for as much of the day as possible, ideally no less than 6 hours.
To plant your seed potatoes, you must first prepare the soil. Grab a container which can hold all of your soil and pour it in. If you have picked a plain soil, then this will be the time to add some granular fertiliser. Add a little water to the soil to moisten it and ensure that this is thoroughly mixed through.
Next, its time to plant the seed potatoes. Place some of your soil into the grow bag until it is around four inches deep. Your seed potatoes then need to be cut into chunks of roughly two ounces each before placing them on the surface of the soil and covered with another 3 inches of soil. Leave the potatoes to begin growing, adding some more soil when they have grown around eight inches.
How often that you water your potatoes will be based on the weather. For example, the soil should only ever feel moist, so if the weather is warm, then you may need to water every day to prevent it from drying out.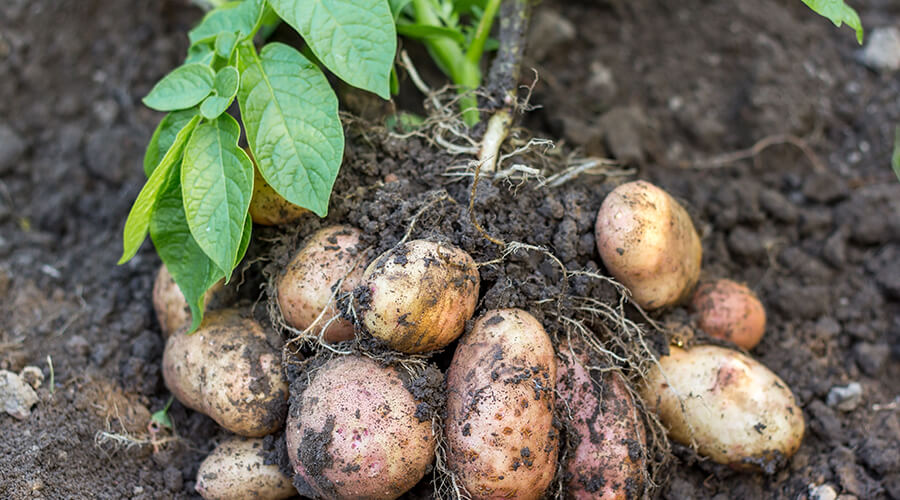 Runner beans remain a staple in any vegetable growers garden and are packed with nutrition. Unlike other vegetables, they are better suited to beginning their journey indoors to prevent the first stages of growth from being eaten by slugs, before being planted outdoors once they have developed. To do this, start by sowing your runner bean seeds in deep pots – you will want to stick to sowing just one bean per pot – then placing them on a windowsill that attracts plenty of sunlight. Once the beans have reached around three inches tall, they will be ready to move outdoors.
When moving your runner beans outside, you will need to choose a spot that, again, attracts sunlight. We would suggest adding some well-rotted manure or compost to your soil before planting the runner beans, then ensure that the soil remains well-drained. As runner beans commonly grow upwards, you would benefit from using bamboo canes for a framework to grow against. They will then be ready to pick and eat roughly 12 to 16 weeks after sowing.
While tomatoes are technically a fruit, they are considered a vegetable by nutritionists, which means that it was only fair that they made it onto our list of homegrown goodness. Tomatoes can be grown from both seeds or young plants depending on what route you are best suited to. You can also choose between either cordon tomatoes which grow tall or bush tomatoes, which as you can imagine, grow on a bush-like plant. The only difference between the two is that cordon tomatoes will require a stake for support to develop, whereas bush tomatoes do not need staking.
If you opt for growing tomatoes from seed, then much like runner beans, you should begin the process indoors. The tomato seeds should be sewed in small pots before placing them in a plastic bag on your sunniest windowsill. Once the truss, which are the small stems that sprout for the tomatoes to grow on start to develop, then your plants can be moved outdoors. Whether you opted for cordon or bush tomatoes will then determine where they are planted. Find out more about this on the RHS website.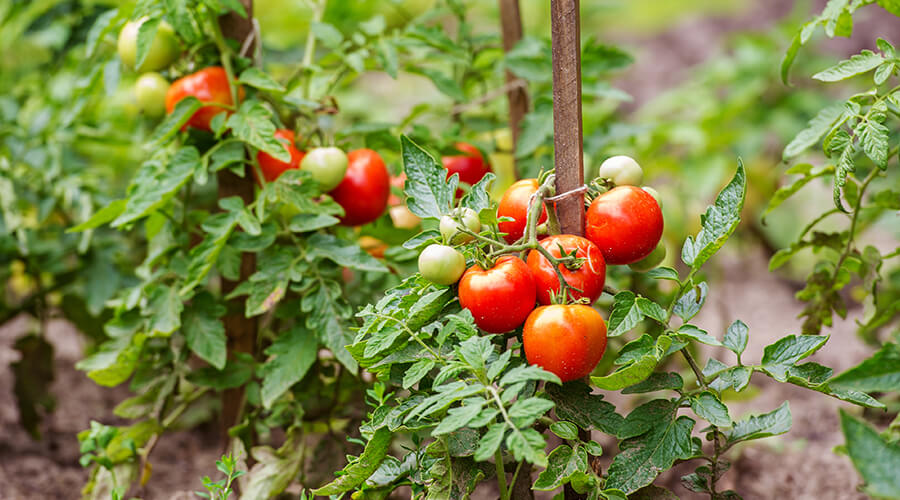 Carrots grown correctly are filled with flavour and are a tasty accompaniment to a whole host of different meals. Their ideal planting and growth period is between March and June, making now the perfect time to sow your carrot seeds. They grow best in an open, sunny area with plenty of well-drained soil, whether this may be in the ground or a deep container.
Before planting your carrot seeds, it is vital to ensure that the soil has been adequately prepared. This includes thoroughly breaking up any lumps in the soil using a fork, as well as ensuring that there are no stones. To make sure that the carrots can thrive during the growth period, we would highly recommend adding some well-rotted compost or manure to the soil.
The planting process itself is super straightforward as you can sow the seeds straight into the soil. Start by making a shallow trench in the ground around 1cm deep before planting the carrot seeds thinly across the bottom. Try to leave at least 5cm between each of the seeds to allow plenty of space to grow. Finish by covering the seeds with soil and watering.
Carrots are relatively low maintenance, making them ideal for beginners. All that you will need to do is remove any weeds that start growing around the carrots, along with watering now and again when the soil begins to dry out.
As one of the easiest vegetables to grow in your garden, beetroots are an excellent choice if you want to ease yourself into growing your own produce. While many stick to just pickled beetroot, they are thousands of delicious recipes for beetroot fritters, tarts and even brownies!
Beetroots grow best in fertile conditions, which means that before you sow your seeds, ensure that plenty of well-rotted garden compost or manure has been dug into your soil. We would also advise using a rake to also mix in some general-purpose fertiliser for maximum growth. Once the soil is prepared, you will need to sow your beetroot seeds in stages, planting three seeds at a time every two weeks. The seeds will need to be placed in spacings that are four inches wide and one inch deep, leaving 12 inches between each.
You will only need to water the beetroot every few weeks when the soil starts to feel dry. If you notice that they are not growing as well as you had anticipated, then you may want to consider adding some high nitrogen fertiliser.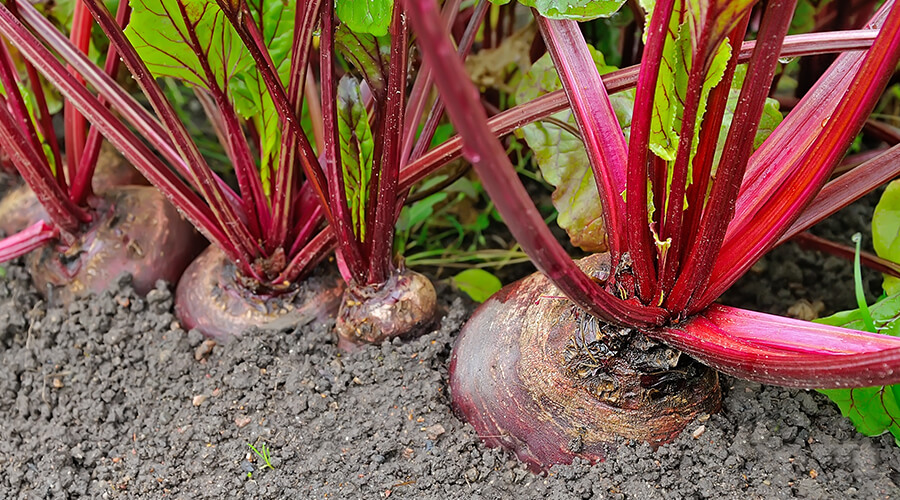 It wouldn't be a Sunday roast dinner without a pile of perfectly roasted, sweet parsnips and even better, they couldn't be more straightforward to grow from home. Unlike other vegetables, they can also be left in your garden until you are ready to use them, which means that you can even save them until later in the year.
The perfect environment to grow parsnips is an open area that has deep soil and is exposed to lots of sunlight. Throughout the growth period, the soil should be kept moist and free from any weeds. Before you sow the seeds and also in the first stages of growth until leaves have developed, we would suggest covering the soil with cloches, which will keep it nice and warm. You will need to sow the parsnip seeds thinly at six-inch intervals, half an inch deep and ideally 12 inches apart. Many gardeners opt for planting radish seeds in between their parsnip seeds to ensure that they can make the most out of their space. However, it is essential to keep in mind that radishes do grow quicker than parsnips, which means that they will need to be harvested long before the parsnips.
If you're looking for an easy to grow vegetable that will come back year after year, then rhubarb would be ideal. Although often misinterpreted as a fruit due to its use in sweet dishes, rhubarb is a vegetable, making it a perfect addition to your homegrown produce list!
Rhubarb cannot grow in waterlogged soil, especially over the colder months, which means that you will need to pick a spot that has free-draining soil. Your chosen location will also need to be open and attracts sun throughout the day. It is your choice whether you opt for growing your rhubarb from seeds or dormant crowns – the latter being the most popular as it does make the process more straightforward, so this is the one that we will be guiding you through.
Begin by digging a hole in your soil that is just a fraction bigger than the size of the crown. Add plenty of compost into the base of the hole and use a fork to separate any lumps. The rhubarb can then be placed into the hole, ensuring that the top of the crown sits in line with the surface. Any space around the rhubarb can then be filled using soil and then gently pressed into place before the ground is watered thoroughly.
Unlike other vegetables, we would suggest avoiding harvesting your rhubarb for the first year as this will help to ensure that it continues to regrow. More information on when and how to harvest rhubarb can be found on Gardening Know How.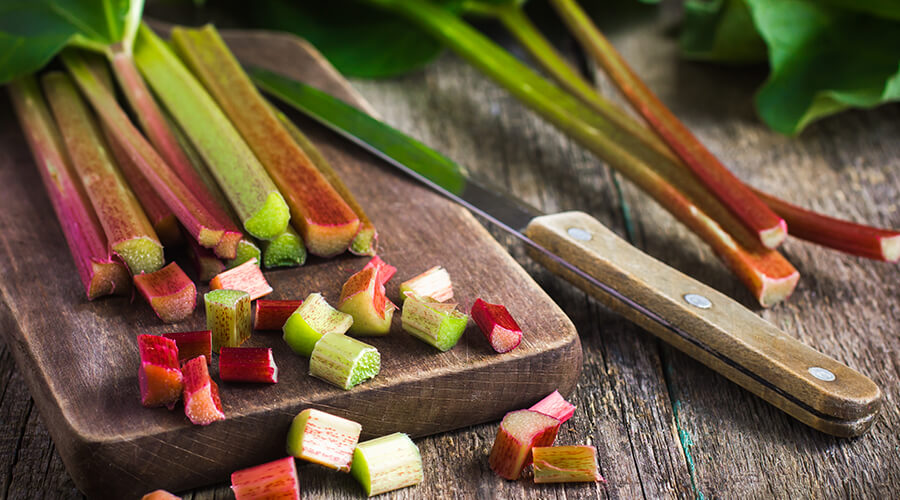 Fresh Vegetables, From The Comfort Of Your Home!
There is nothing better than a meal made with homegrown, freshly picked vegetables, so why not use your time during lockdown to your advantage to begin your own vegetable patch? Whether you opt for beginning with just one vegetable or choose a few of your favourites, we promise that you will thoroughly enjoy the process.
Not only is growing your own vegetables fantastic for home use, but also as a restaurant owner. We have had many of our clients who we visit for commercial landscaping in Milton Keynes begin growing their own produce to rustle up delicious dishes on their menu. It makes a unique selling point and even better, you get to enjoy the peacefulness of gardening!