The UK is known for its harsh weather over the winter period, and having worked hard over the summer to perfect your garden and add a pop of colour, protecting your masterpiece from the adverse weather conditions is vital. Autumn is a great time to start putting in place measures to protect your garden from the cold weather ahead, as well as making your last preparations to keep it in tip-top and pristine condition. As professionals in landscape maintenance in Milton Keynes, we have a few tricks up our sleeves to maintain a beautiful garden and protecting your hard work ready for enjoying the flowers next summer. So, we have pieced together a guide including some of our top autumn gardening tips to help you maintain a stunning garden no matter what the winter months bring.
Autumn Gardening Tips To Protect Your Plants & Trees
If you're an avid gardener, then it is likely that you have spent hours in your garden over the summer, and the thought of rain and snow attacking your garden can be heartbreaking. This makes it all the more important to protect your plants, trees, landscape and furniture from the adverse weather conditions. While you can not predict what the autumn and winter months will bring us this year, there are few ways in which you can minimise the damage caused to your precious garden. Here are just a few tips that our professional gardeners swear by: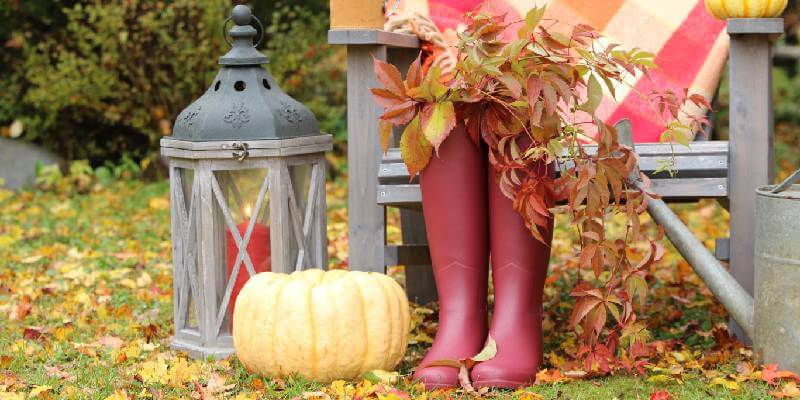 One of the most common things that gardeners will do during the summer and spring months is adding some colourful flowers to the garden to give it that bright and summery feel. However, these flowers are only suitable for the warmer climate, meaning that in the winter, they die and start to make the garden look a little miserable. While it may sound a little counter productive and disheartening, as soon as the weather takes a turn for the worst and you notice that the flowers can no longer withstand the temperature, the best thing to do is uproot them. By uprooting them, you can make way for replanting in the following spring, giving you one less job to complete before perfecting your summer garden.
If you are unsure about how to complete this task, then flow the simple steps over on Gardening Know How or take a look at The Spruce on how to uproot plants ready for moving home.
Many amateur gardeners believe that their lawn flourishes best during the summer months rather than the autumn; however, the summer can be just as damaging, if not more. The reason for this is that the sun dries out the lawn, and without regular watering, the lawn can start to look brown in patches, and you may notice that the grass even stops growing back. However, autumn is the perfect occasion to lend your garden a helping hand. By adding some fertiliser to the lawn, you can make sure that the soil is strong enough to withstand the winter months ahead.
There are a few things that you will need to keep in mind when fertilising your law, so we have answered the most common questions our clients ask us when completing their landscape maintenance in Bedford and the surrounding areas:
Why Use Fertiliser?
Fertilisers are used to improve the general health of your lawn, whether you have noticed that your garden needs some attention, or you wish to make sure that your garden is green and full all year round. Due to our gardens taking a hit from both the summer and winter months, fertilising the lawn can make sure that the soil is in immaculate condition to protect the roots of your grass and plants. Not only can fertiliser help with the appearance of your lawn, but it can also help to prevent disease, which is common when lawns become weak. You can find out more on this topic by reading Science Learn's handy article on fertilisers.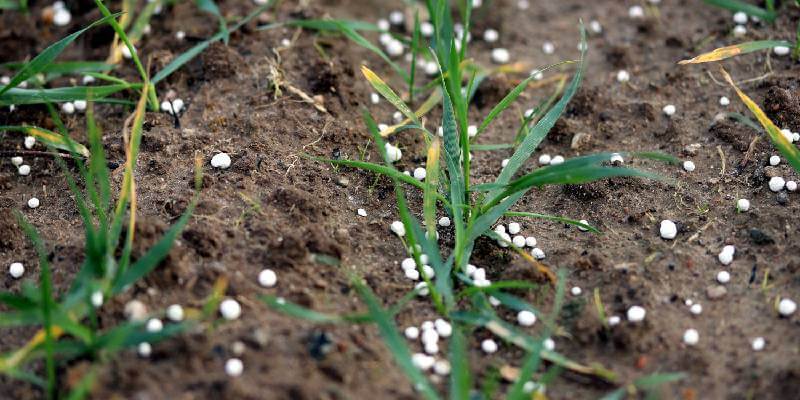 What Fertiliser Should I Use?
There are many fertilisers that can be used on your plants and lawn, and in most cases, the one that you choose to use will be dependent on what nutrients your lawn requires. It is always best to opt for organic and chemical-free fertilisers, as this will help to avoid plant deformities and protect natural wildlife. For the lawn, you want to make sure that the fertiliser contains nitrogen, potassium and phosphorus and that it is of good quality. The reason for this is because cheap fertilisers tend to have too much nitrogen, which while it can improve the appearance of the lawn quickly, it does not promote healthy and strong lawn growth for long-term strength. If you are unsure on the best fertilisers for your lawn, then Garden Helpful has put together a list of some of the best fertiliser brands to look for.
How Do I Fertilise My Lawn?
If you have little equipment and are not keen on purchasing any, then you are able to fertilise the lawn by hand. However, this is extremely time-consuming, and in many cases, does not spread the fertiliser evenly. The best way in which you are going to get maximum coverage is if you use a spreader. To use this, all you need to do is pop the fertiliser into the spreader and walk around your garden until you have covered the entire area. You can find a detailed guide on how to complete this task over on Popular Mechanics.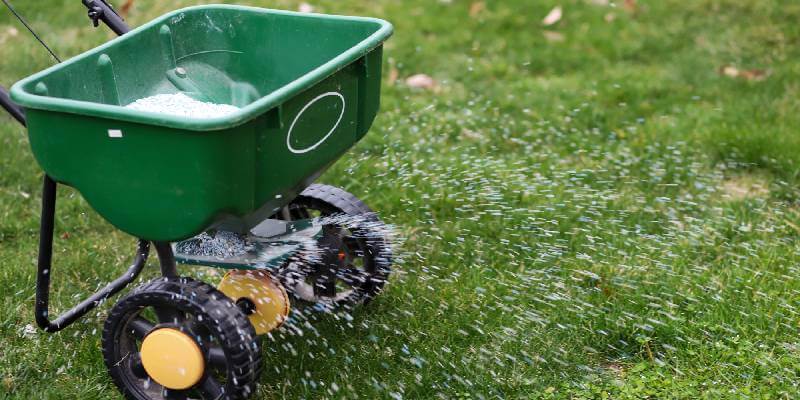 If you have a garden pond, then you are probably well aware that it can take a lot of effort and time to maintain, particularly after the winter when debris has fallen into the pond. There is one, extremely easy way that you can maintain the pond area during the harsher months and minimise the level of maintenance required when you return back into the garden as the weather changes. When you begin to notice a drop in temperature and the weather forecast shows rain and cold winds, it's time to cover up that pond for the winter. You can find pond covers on most gardening sites or through hardware stores such as Covers & All. The best type of covers are mesh, as this stops any debris falling into the pond while making sure that wildlife can continue to live within the water. It also allows rainwater to enter, which can be beneficial for wildlife as it provides nutrients.
De-weeding the garden can be an extremely time-consuming task, but is a necessary one to make sure that you are protecting the rest of your garden, while also minimising the amount of work you'll have to complete when the summer arrives. De-weeding is incredibly beneficial for your garden, it prevents them from killing your plants and trees, while also maintaining an aesthetically pleasing garden. There are two main ways to de-weed your garden, and we suggest that you use both depending on where your weeds have grown.
If you have weeds in your lawn or among your flower beds, then the best method to removing them is wetting the lawn, or waiting for it to rain, and then carefully pull out the weeds. The weeds should be easy to remove as the soil will be wet and weak; this also makes it important to be careful not to pull out the surrounding plants. On the other hand, if your weeds are growing through the cracks in your patio or walkways, then you could always invest in some weed killer. Weed killer is best for the patio as it removes the weeds without accidentally pulling out any filling of the patio cracks. Additionally, you do not want to use weed killer in areas where plants are growing as this can also end up killing the plants.
As professional gardeners and landscapers providing domestic and commercial landscaping in Milton Keynes and the surrounding areas, we have the tools, knowledge and equipment to successfully and carefully remove weeds to present a clean and aesthetically appealing garden. If you would like assistance with your landscape, then please feel free to speak with the team about how they can help you prepare your garden for the autumn and winter.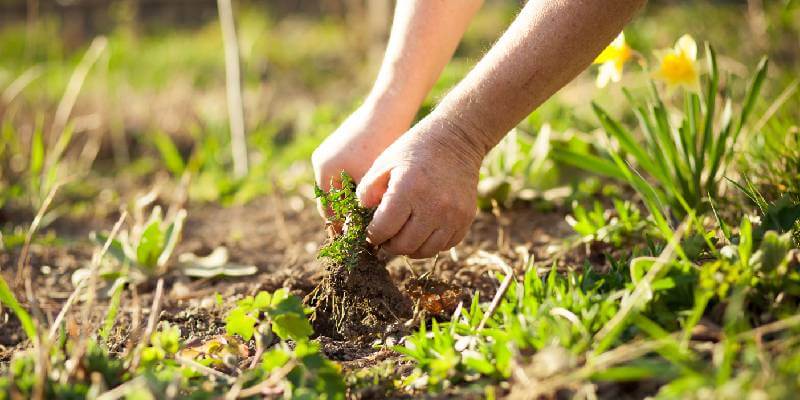 One of the biggest mistakes that many homeowners make is to leave their furniture to deal with the weather come rain or shine. However, no matter the material of your furniture, you should always use a waterproof cover to protect them during the harsh weather. Rain can affect the longevity of your furniture, rusting the components or causing rattan to crack; this will, therefore, cause the furniture to break easily, meaning that you may have to repair or replace the furniture next year. Instead, you can purchase a range of furniture cover sizes and shapes on Gnomestyle or you can customise your own over on Cover and All. This means that when you uncover your furniture next summer, all you will need to do is give them a quick wash down, and you can use them.
If you want to make sure that your garden looks full of life no matter the weather outside, then evergreens are the perfect addition. Unlike most other plants, evergreens look stunning and stay alive all year round. Not only this, but evergreens take little to no maintenance as its natural habitat will do all the work. You can find a host of different colour evergreens to add some colour to your gardens such as the stunning pink/purple Euonymous Alatus or you go subtle yet striking with some lavender. If you would like to find a host of evergreens to add to your garden and make it look just as beautiful and full of colour in the winter as well as in the summer, then we suggest taking a look at Thompson & Morgan's article.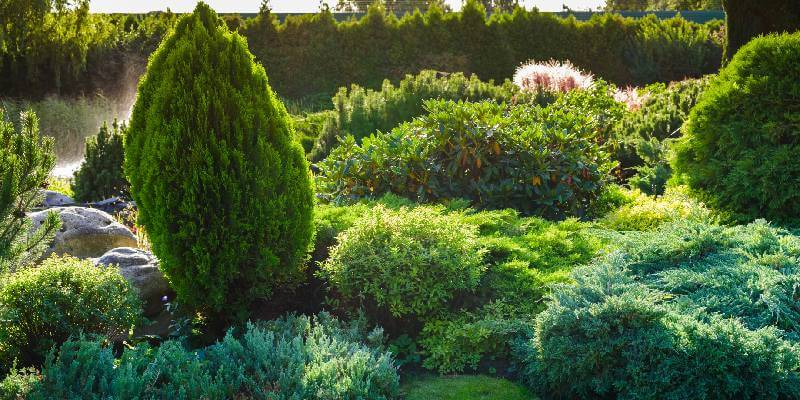 Keeping Your Garden Pristine All Year Around
Making sure that your garden looks pristine all year round isn't as hard as many people may think. Completing maintenance and preparation in the autumn is the best time to make sure that your plants, lawn and other garden features are kept in good condition ready for the summer months. Not only does this make sure that you can keep up with the aesthetics of your garden, but it also means that you can spend less on constantly repairing your garden and replanting your summer plants. If you need further advice or a helping hand in landscaping your gardens, then please contact the team for commercial landscaping in Northampton and the surrounding areas.