When it comes to decorating an office space, it can often be tricky to achieve the perfect balance between visually appealing and remaining professional. There is a very fine line between less is more and overcrowding a space making it appear too busy, so how can we know where to start?
Continuing to grow in popularity is office planting for commercial buildings. Bringing the nature indoors is scientifically proven to be beneficial to the body, so here we discuss the main benefits of plants in the office – some may surprise you!
What Are The Benefits Of Plants In The Office?
Some of the advantages of office planting may attract some people more than others, whether you are more drawn to health benefits or the aesthetics will help to make your decision. No matter what factors attract you more, we can guarantee that after reading through these benefits, you'll be swayed towards office planting!
1. Plants Keep The Air Clean
One of the most significant benefits of plants is that they naturally filter the air of chemicals that may cause future harm to the body along with reducing the build-up of bacteria in the atmosphere. Plants absorb gases such as carbon dioxide and breath out oxygen meaning that when plants surround you, you are more likely to be breathing pure oxygen into your lungs.
The air in offices often becomes very dry due to the high number of people populating the space each day, plants raise humidity and stop the air from drying out as much. Dry air can be very harmful to the body, increasing dehydration which causes problems such as dry skin, dizziness, headaches and coughs, all of which are very common for those who work in an office environment day in, day out. Plants make the air quality all round better, the more plants you add to your office, the more likely you are the have healthier staff.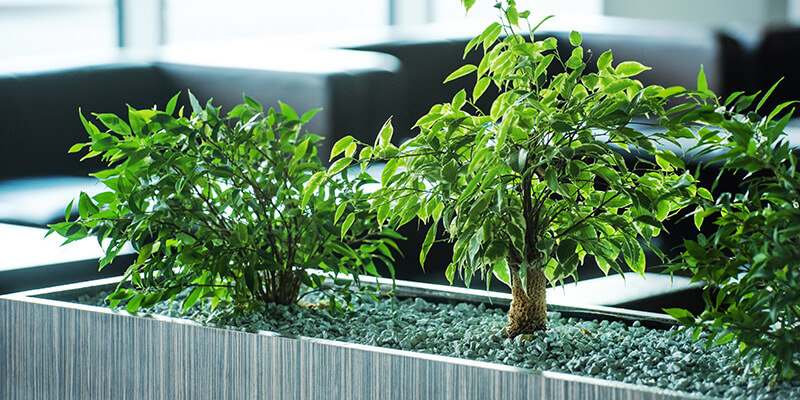 2. Reduces Stress and Encourages Productivity
Of course, in the workplace, you cannot completely remove all signs of stress, it is often unavoidable. However, plants are proven to dramatically remove the level of stress and create a more positive environment. A more homely and welcoming atmosphere is created when nature is present, and studies show that plants make the room calmer.
A reduction in stress from employees, in return, encourages an increase in productivity meaning team members will be able to manage their time more efficiently and stay on task without becoming flustered.
Productivity is also increased when the level of carbon monoxide is reduced, which linking back to the previous paragraph is a crucial role of plants.
3. Visually Appealing
Creating a visually appealing workplace is not only important for your employees, but also for potential clients or customers and job applicants.
Working in an environment that retains a nice, clean and airy feel will encourage employees to enjoy their working day more. Let's be honest; there is nothing worse than having to spend your days working in a dull, dingy office space severely lacking personality – You'll either find yourself staring out of the window or struggling to stop yourself from nodding off!
As a business, first impressions count, they can often make or break whether a potential client or customer will be eager to invest their money in you. If they cannot see clearly that you look after yourselves and take pride in your premises appearance, why would they want to spend their money on your products or services?
When a job applicant steps into your workplace, the aim is to impress them and encourage them to want to work for your business. Adding a plant installation as a centrepiece in either your main reception or waiting area will instantly capture their attention and spark a fantastic talking point!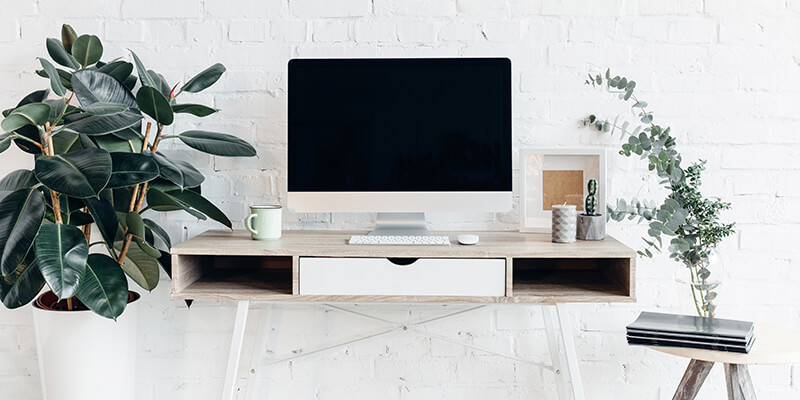 4. Reduces Noise
The idea of plants having the ability to reduce noise levels may, at first, sound strange and unrelatable, but once you have the background knowledge, you'll understand why!
How often have you been driving through a busy road, dual carriageway or motorway and not been surrounded by trees and bushes? It hard to think of, right?
Plants are commonly placed surrounding busy roads to lower the level of noise pollution for those who live in the local area; this idea works in the same way in an office. It is recommended to install large plants in the corners of your office space as they dramatically contribute to a reduction in reverberation time. Reverberation time is how long the sound waves continue to circle for. Once the length is cut, you are less unlikely to notice small distractive noises which may without plants, cause you to stop working and look around for where the sound is coming from.
5. Increases Creativity
If you work in an industry, such as graphic design, where creativity plays a key role in your daily tasks, it can often seem as if you have come to a mind blank and ran out of ideas. Office planting is perfect for creative environments as it automatically strikes a number of ideas, there are a whole host of different objects, living beings and colours associated with nature.
A simple, uncluttered office interior design with a few plants placed around your desk is proven to make you feel more relaxed, similarly to earlier when we mentioned plants ability to reduce stress. The more comfortable you are, the easier it is to open up your mind and engage in creative thinking. You will have a clearer mind and not have other thoughts blocking your idea flow. If a cluttered environment surrounds you, it can often make you feel lazy as everything around you is a distraction and throwing you off topic.
Plain white office furniture along with some greenery and a few statement block colour pieces of decor is a keen favourite for office decor this year. Bright colours such as yellow and pink perfectly compliment the green of plants. You could even keep it simple and add your splash of colour through pen pots, folders and storage boxes.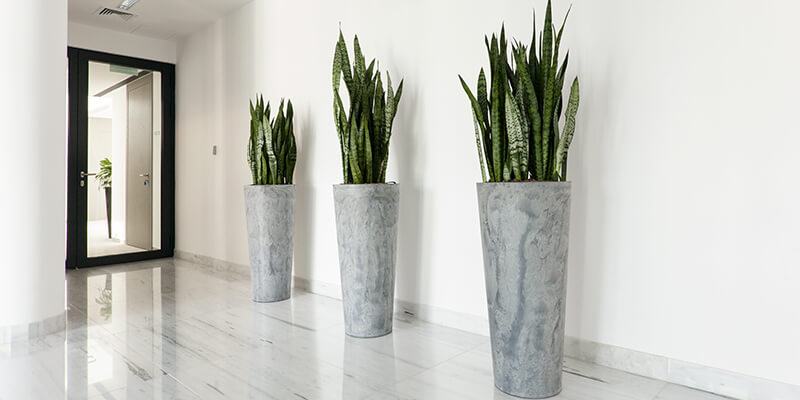 Will You Install Plants To Your Office?
There are a whole host of fantastic benefits to installing office plants to improve your office environment, both health-wise and business productivity. Office planting Milton Keynes can be tailored to your business, whether you want to opt for a simple, modern installation or prefer to have something a little more extravagant and unique!