As we reach mid-December, the end of year preparations are well underway, and the countdown to Christmas has officially commenced. Unfortunately, it can often be somewhat tricky to get into the festive spirit in the workplace and keep all members of the team motivated for that extra push over the busy period.
Although it may, at first, seem like an additional expense and a time-consuming task, decorating the workplace for Christmas is incredibly beneficial. Not only does it boost morale and create a more positive workplace, but adding a touch of festivity can also improve productivity as employees will enjoy their surroundings.
If you're looking for some inspiration to transform your commercial building into a complete Winter Wonderland, take a look at our 10 favourite workplace Christmas decoration ideas.
Workplace Christmas Decoration Ideas
Creating a positive, welcoming first impression for visitors, clients, customers and even potential employees is vital for maintaining a successful business. Nothing will make a new visitor feel welcomed, relaxed and comfortable like a few festive decorations around the workplace.
Although decorating for Christmas is all about colour and sparkle, it can be very easy to go overboard and become a little OTT. Remember, it is still a corporate workplace, so you want to opt for decorations that maintain professionalism, less is more. We've devised a list of a combination of outdoor and indoor ideas, so keep reading!
Outdoor Christmas Decorations
Outdoor Christmas decorations can be a little tedious; it takes a lot of time and patience to set up outdoor decorations perfectly. You will need to ensure that all instructions are thoroughly read to ensure that you maintain on-site safety and cause any hazards.
LED Stags
Opting for LED Stags are a fantastic idea if you work in a public workplace, which has many visitors throughout the day as you will be able to experience the full effect when the evening approaches or first thing in the morning.
LED Stags are ideal for commercial use as they stand over a metre tall and create a cute welcoming atmosphere through a jewelled finish. Although they shine bright, the props are both low voltage and low power, meaning they remain safe and will not cause any fire hazards. Most Stags can be put on a timer meaning they can turn themselves on in busier periods and then switch off during daylight to avoid wasting electricity.
Tree Fairy Lights
Covering a large tree with twinkling fairy lights is a traditional and straightforward, yet extremely effective way to bring festivities to your premises. The great factor of outdoor fairy lights is that you have many power options including battery-powered, plug-in and even solar powered lights, depending on what works best for you.
It is always recommended, if you plan to delicately drape fairy lights over a tree, to firstly check with your local tree surgeon in Milton Keynes whether the tree is safe to have an extra weight applied. Old, dead branches can become very fragile meaning even a slight lean could cause them to snap.
There are many different colour and style options when it comes to outdoor fairy lights. Elegant white or gold bulbs are a keen favourite, or alternatively, if you wish to be a little more unique, there are also red berry-light lights and colour changing lights available.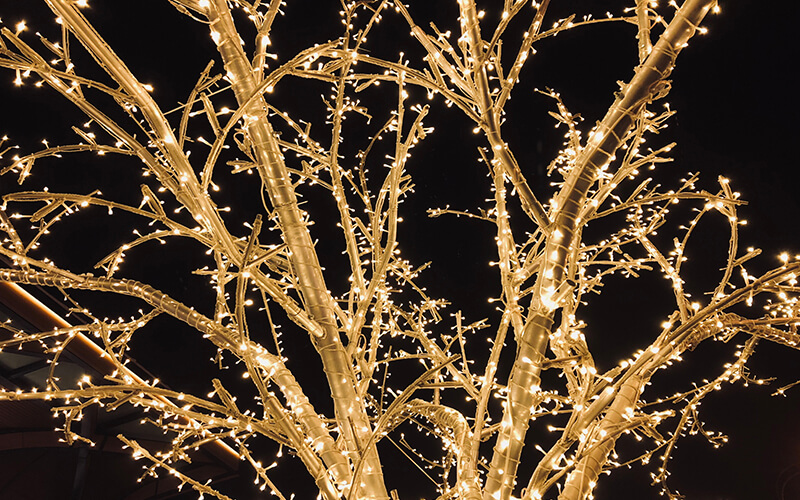 Net Light Shrubs
If the exterior of your commercial building has regular landscaping Milton Keynes, then hedges and shrubs are guaranteed to be perfectly pruned and shapes, making them ideal for decorating. Netted lights are fantastic as they make it super easy to cover shrubs with lights and do not run the risk of an irregular, uneven decoration placement.
When tackling the job of setting up lights across your landscaping, always start with a well thought out plan of action. You want to the net lights to frame the shrubs and do not get lost in the branches and foliage. Always opt for getting a helping hand for this job.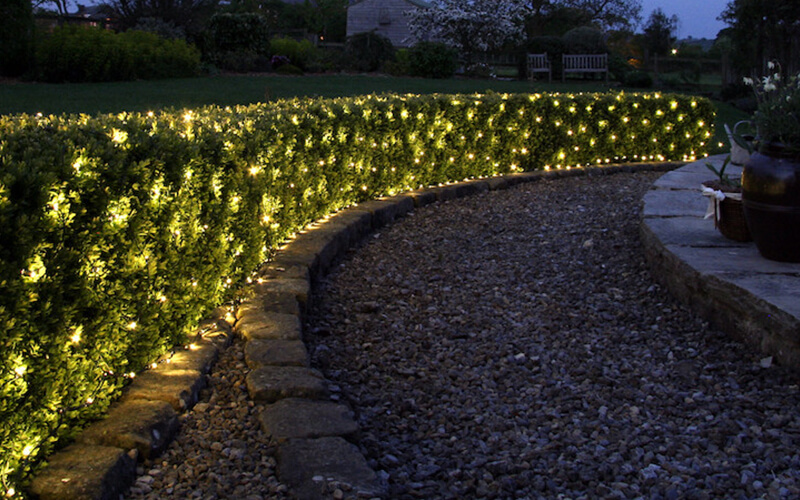 Snowflake Projector
Similarly to the LED Stags and Tree Fairy Lights, fitting a Snowflake Projector would be best suited to a building that is seen at all points of the day. A projector is a brilliant option for those in built-up areas or are at the side of a road, so many people get the opportunity to admire the magic scene.
Although projector can come at a slightly costly price, they make decorating for Christmas a simple job. All you will need to do is safely set up the equipment in an area that will not be trampled on and again, set a timer for when you would like the lights to begin.
Giant Nutcracker Soldiers
Giant Nutcracker Soldier props are a fantastic option if you have a large main entrance which is located in a busy area with lots of passersby – it is guaranteed to draw attention to your business.
Life-sized Nutcrackers can either be purchased or rented over the Christmas period, depending on whether you wish to replicate a similar Christmas decor theme the following year. Traditional Nutcrackers follow a red and gold theme dressed in a full soldiers uniform, perfect for placing on either side of your entrance door. Many companies situated on the high street opt for these props to encourage tourists to take photos with the Nutcrackers.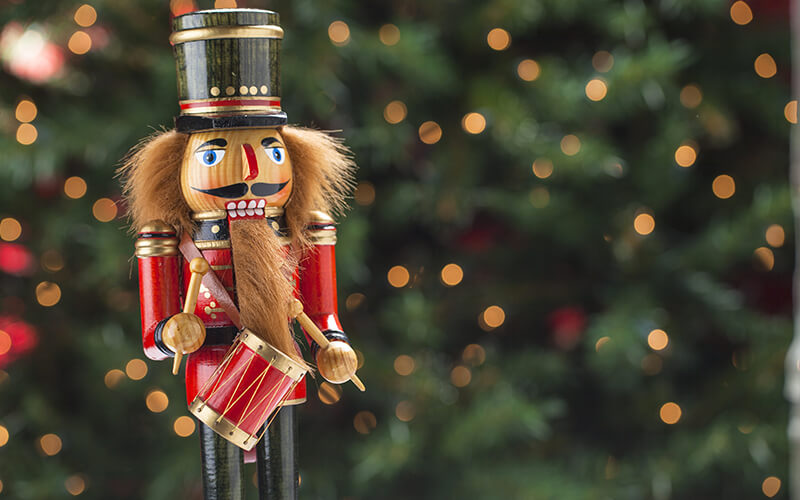 Indoor Christmas Decorations
When it comes to decorating the inside of your commercial building for Christmas, you are free to be considerably more creative and extravagant. Decorating can even be used a fun team building activity to get all employees together and enjoying the festivities.
LED Present Tree
If you're going to decorate your workplace, whether this may be the main reception or office suites, you simply cannot go without a Christmas tree.
As Christmas trees are ever so popular, it means that they can be picked up at a low, cost-effective price and be used year after year again. Most commercial premises opt for an artificial Christmas tree over a real tree. As Christmas is one of the busiest periods of the year for companies, an artificial tree will eliminate the need to water the tree and consistently clean up the fallen needles. Pine is also a common allergy, so opting for an artificial tree will remove the risk of a reaction.
Although a tree decorated with lights, baubles and finished with a star looks wonderful, the final finish can often be ruined through the stand. Purchasing LED Presents to place under the tree is excellent for covering the stand and maintaining the magical, glistening aesthetic a Christmas tree brings.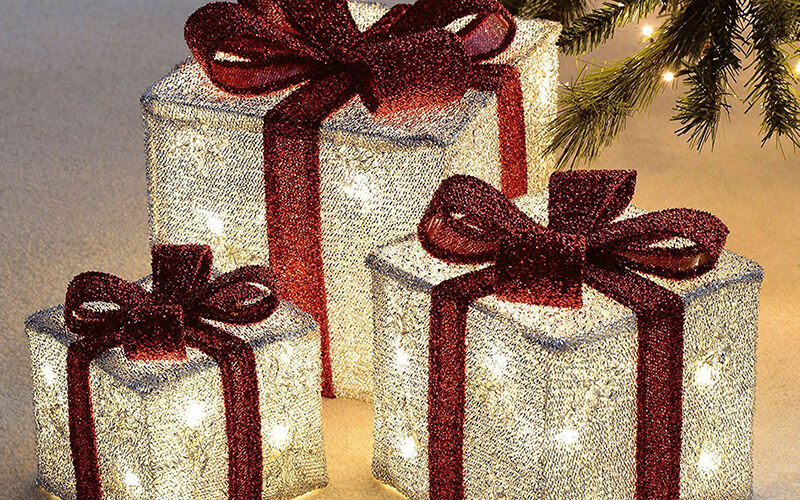 Photo credit to eBay.
Festive Wreaths
As mentioned previously, putting up Christmas decorations in the workplace is an effective team building activity, but even more so if you plan to create DIY decorations. Christmas Wreaths are so easy to make and only requires a few essential materials.
It is your choice whether you opt for creating one big wreath to hang on, for example, your office door or many small decorations so that each team member can get involved. To create your own Christmas wreaths, you will need the following materials:
Wreath Base
Wire
Textured Foliage
Artificial Berries and Pinecones
Decorations, i.e. Baubles and Ribbon
For an easy guide on how to create your own Christmas Wreath, take a look at this handy Good Housekeeping guide!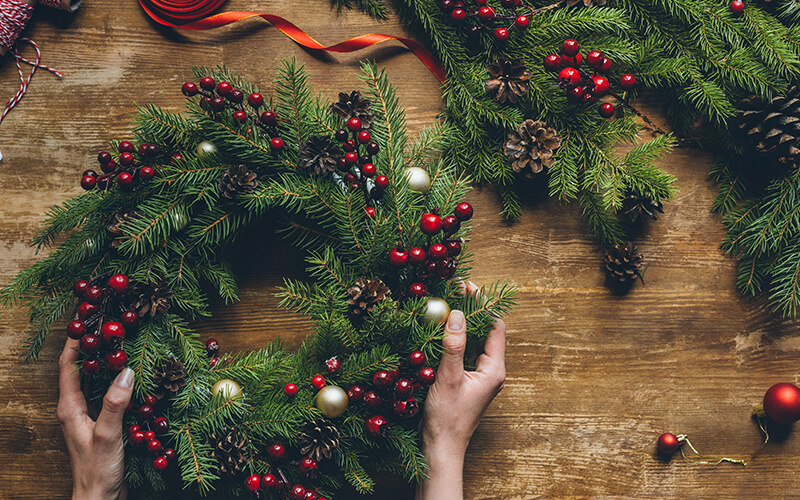 Desk Trees
Not all members of the team may celebrate Christmas or want to decorate the office. If this is the case, not to worry, we suggest purchasing some miniature desk trees for all colleagues who would like to get into the festive spirit.
There are tonnes of different miniature tree options available depending on the style you wish to go for. If team members are eager to decorate a tree, many mini artificial Christmas trees are available, which are around 30cm tall and can be decorated as you please.
For something a little more unique, why not go for a Colour Changing Lit Christmas Tree to sit on desks. Colour Changing Trees are acrylic and battery operated, making them look like a delicate, illuminating ice carving.
Christmas Bunting
Adding bunting around the workplace is great for adding a small extra touch of Christmas, especially good if you do not want to go too overboard. There are so many different options when it comes to bunting, from reindeers and snowmen to snowflakes and Christmas trees. Again, bunting can be made through DIY methods; however, they are cheap to pick up from various different retailers.
Personalised Christmas bunting is the perfect addition to any workplace and can be created online through websites such as Not On The Highstreet and Etsy. Here you are able to have any message or name incorporated into your bunting, including the company name or slogan. You can even alter the colours to suit compliment your branding.
Hanging Window Lights
Working in an office that is located in a large commercial building with many floors can often make it tricky to decorate and show off your creations to the public. However, the majority of offices do have large windows which are perfect for decorating with lights.
Just like Christmas Bunting, there are many different variations of Hanging Window Lights including stars and snowflakes. The advantage of opting for lights is that they can be fitted running across the top of your window and they will already be set up to hang in a strategic, levelled order, so you will not have to spend time playing about with placements.
Before purchasing lights, it is highly recommended to measure your windows, both by width and height to ensure that you do not pick up lights that are too large or too small. Also, double check that you have access to a plug nearby to the window you wish to decorate and you will not have to trail an extension lead across the office causing tripping hazards. Lights will then be able to be turned on and off easily whenever is required.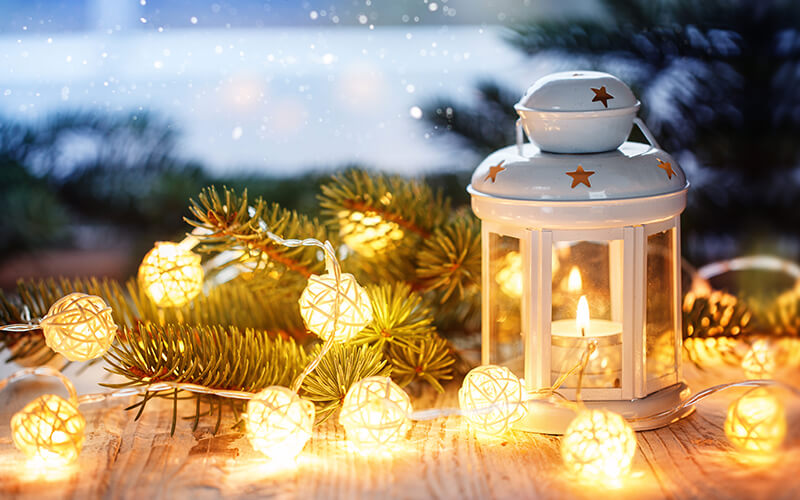 Get Into The Festive Spirit With Workplace Decorations!
It is your choice how much or little decorations you opt for placing around the workplace, similarly to whether you chose to stick to outdoor, indoor or both. We suggest discussing ideas and options with members of the team as it will be great for gaining inspiration on what others would enjoy.
Last but not least, whatever Christmas decoration options you finalise, always ensure that they do not disrupt any health and safety standards and that they do not cause any tripping or electrical hazards.