First impressions matter, particularly as a reputable business aiming to attract new clients or customers. Your business premises or main headquarters is ideal for building a positive impression of your organisation, so use the opportunity to your advantage. Whether you manage an industrial estate, office block or retail park, commercial landscaping can prove incredibly beneficial. Many commercial property owners continue to be somewhat dubious about the idea of landscaping due to the thought of constant maintenance and disruptions during operating hours; however, this most definitely does not have to be the case. There are a number of vibrant annually blooming plants and flowers that require little to no maintenance. To give you some inspiration, we have devised a guide to the 10 best perennials ideal for corporate landscaping.
10 Best Perennials To Brighten Your Premises
With years of experience providing commercial clients with landscaping in Milton Keynes and surrounding areas, we have noticed that, when searching for the perfect plants to bring life to your premises, there are a few key attributes to keep a careful eye out for. Essentially, plants must be able to stand on their own two feet without needing to be tended to regularly. They must be high performance and able to bloom for a long period of time year on year without the need for deadheading or staking – perennials achieve just that!
1. Encore Azaleas
Unlike many other perennials, Encore Azaleas is somewhat unique as it is a hybrid plant made from a combination of the Kurume and Southern Indica. They bloom twice a year, once in the Spring and again during the late Summer months making them fantastic for bringing colour to any garden. When planting Encore Azaleas, you most definitely will not be short for choice. There is a vast array of colours available including purple, pink, red and white species.
To achieve optimum results, aim to plant Encore Azaleas slightly above the soil level and in an area with filtered shade. Encore Azaleas, unfortunately, will die if planted too deep into the soil which means that it is imperative to construct a hole that is twice as wide as it is deep.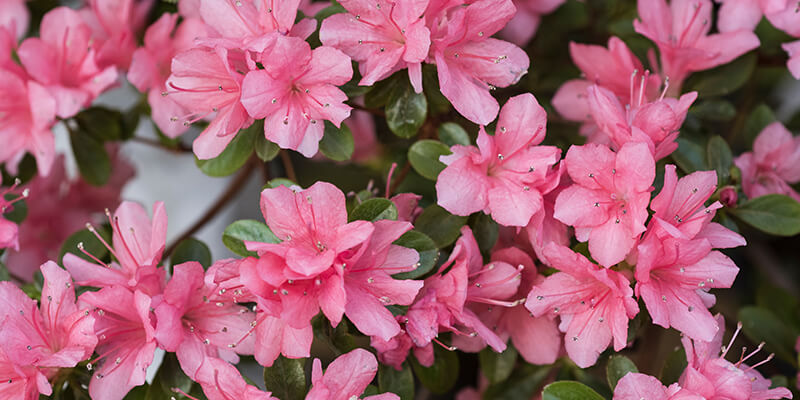 2. Sedum
With over 400 different species available, the Sedum is ideal for filling a substantial percentage of a commercial building meaning there will be little need for any additional planting. Sedums are a large plant that features strong stalks, a river of green foliage and bold flower heads that bloom late Summer to early Autumn.
One of the most significant benefits of opting to plant Sedum perennials is that they are more than happy to grow in good health in poorer conditions; for instance, a location with little water or badly conditioned soil. They are fantastically tolerant to a whole host of adverse conditions and can often be known to rebloom brightly in as late as November!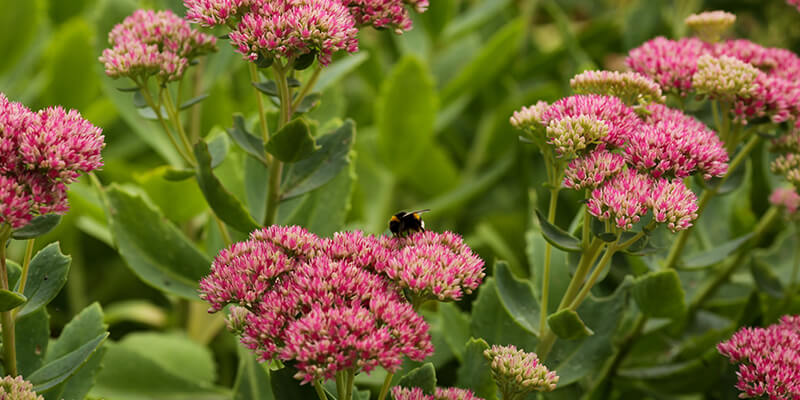 3. Ligularia Dentata
Also known as the 'leopard plant', the Ligularia Dentata is a robust perennial that grows in clusters. When planting a Ligularia Dentata, you can enjoy vibrant green, orange and purple shades during the Autumn, Spring and Summer months. The flower itself has many similarities to the Daisy, with delicate centres and long, thin petals filled with colour.
While the Ligularia Dentata is disease free, they are often susceptible to damage caused by slugs and snails which means that they do require a little more maintenance. It is recommended, to maximise your results for the upcoming year, that you cut back the plant after flowering to prepare the foliage for regrowth. For more information on how to care for the leopard plant, take a look at RHS.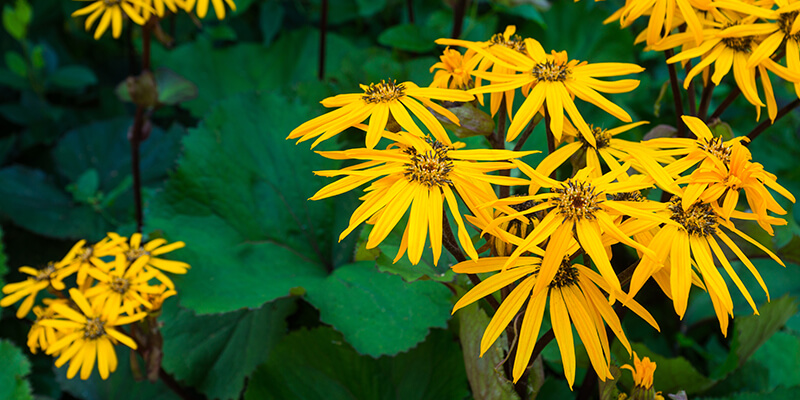 4. Arabis Caucasica
If you love the modern appearance of a rock or gravel garden but hoping to add a touch of life, the Arabis Caucasica is ideal. As the Arabis Caucasica originates from the Mediterranean, it is more than capable of withstanding hot, dry conditions and does not require fertile soil to grow. There will be no need for pruning making it a fantastic addition to any form of commercial landscaping.
When fully bloomed during the Spring, the Arabis Caucasica is filled with small clusters of dainty four-petalled white flowers. During the colder months, the perennial will continue to bring colour to your garden through a sheet of evergreen foliage which retains their green shade all year round – perfectly complimenting the neutral tones of stone or gravel.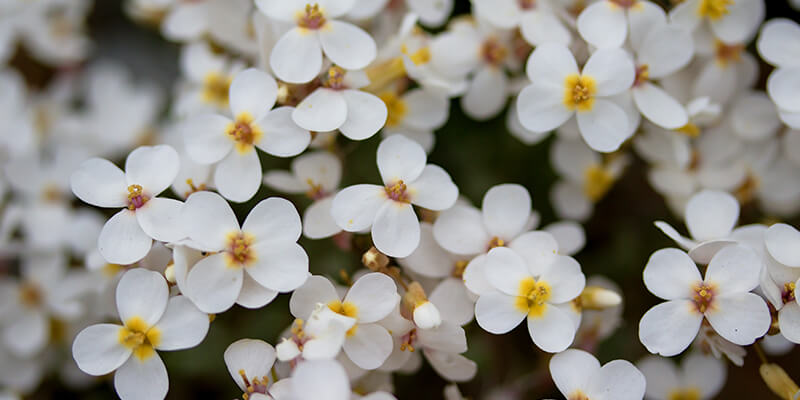 5. Geranium
The Geranium is an incredibly diverse group of perennials with an excellent range of colour variations to choose from including deep purples and vivid pinks. To date, there are 422 species of Geraniums, all of which flower annually with minimal maintenance. Their leaves are filled with essential oils which gives the plant a natural insect repellent. As soon as potentially harmful insects touch or even brush past the Geranium leaves, a natural perfume will release which repels a number of pests. House Beautiful has put together an interesting guide on more little known facts about Geraniums.
Unlike many other perennials, Geraniums require a substantial amount of sunlight; ideally six to eight hours a day. They must be planted in moist yet well-drained soil to achieve optimum growth.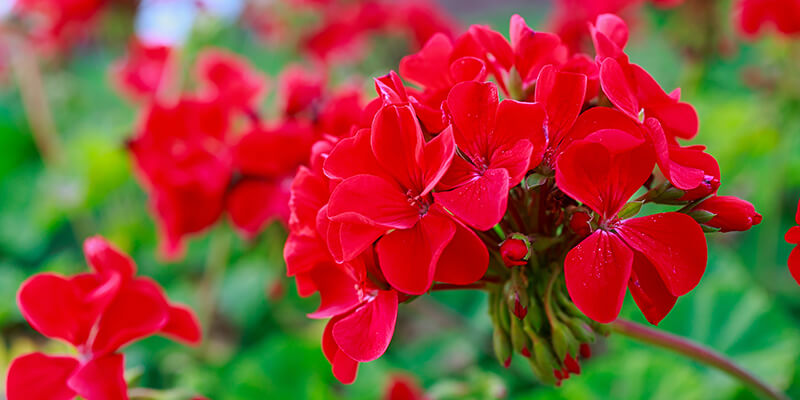 6. Astilbe
Filled with shades of pastel pink, blue and red, the Astilbe has a unique appearance with similarities to ocean coral. They grow considerably taller than any other perennial with towering fluffy plumes and luscious green foliage that can only be described as comparable to fern.
A shaded area that has little exposure to the sunlight, perhaps an hour or so in the morning, would be the ideal growing location for an Astilbe plant. Ideally, the Astilbe develops best in rich soil but can also grow in poorer conditions if there is a considerable amount of compost. This quirky perennial does require regular watering which means that it may prove beneficial to invest and install a sprinkler on your commercial premises. Easy Garden Irrigation stock several different kits perfect for keeping your Astilbes well-watered throughout the year.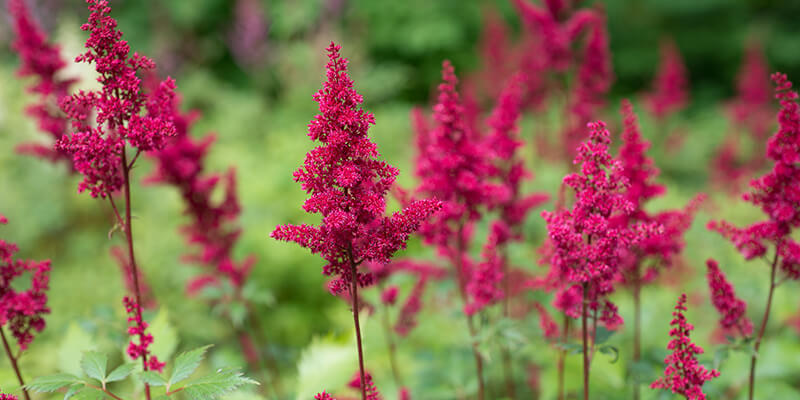 7. Hosta
While the Hosta may be somewhat simple in appearance compared to many of the other perennials mentioned, they look fantastic placed around walkways and the circumference of the building. Hostas remain to be one of the most popular foliage-based plants as they grow well in any location with light to medium shade. Their leaves vary in crisp shades of green with darker tones in the middle that become lighter as you reach the curved edges. With research, you may even be able to track down fascinating blue Hosta plants which are guaranteed to make your premises stand out from the crowd.
The Hosta requires little maintenance and will only have to be divided every three years or so. It is imperative to divide perennials if you hope to maintain the performance of your garden and multiple the plants. For a full guide on how to successfully divide plants, take a look at Gardening Know How.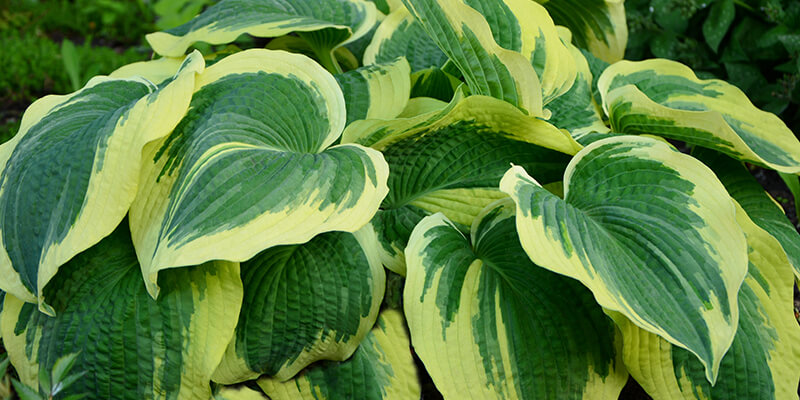 8. Hemerocallis
For those hoping to add a tropical twist to their commercial landscaping, Hemerocallis, also known as daylilies, are ideal. While each individual flower has just a short lifespan, the perennial does continue to produce new flowers weekly from early to late Summer, often between the months of May to August. The most popular species of the Hemerocallis features a large lily-like flower with a vivid yellow and orange centre and rich red shade on the outer petal. We love the collection of Hemerocallis flowers available from Woottens of Wenhaston!
Hemerocallis are great for commercial building as once planted; they will not require any form of training, staking or deadheading after blooming season. However, to ensure that your perennials can thrive, aim to plant them in organic soil, ideally with garden compost or manure.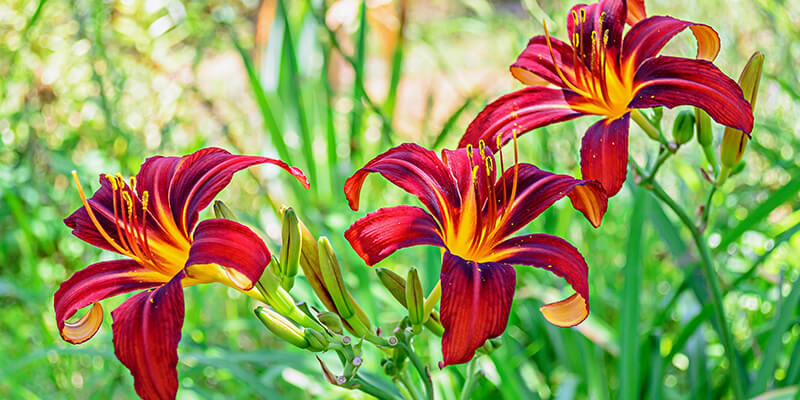 9. Coreopsis
The Coreopsis is often also known as a 'pot of gold', and we must admit that the name most definitely doesn't disappoint. The tiny daisy-like flowers range between tones of yellow, orange and pink, bringing an elegant touch to any businesses landscaping. As opposed to many of the evergreen perennials mentioned, the Coreopsis grows high in upright clumps reaching above any foliage planted below. Once fulled matured, the plant can reach up to 18 inches tall.
While it will be an easy task to track down Coreopsis' to buy as plants, you will be able to find a more extensive selection if you opt for planting seeds instead. Mr Fothergill's has many different Coreopsis seeds types in stock! During the planting process, aim to choose a location with full sun or just partial shade. While the perennial does not require a specific type of soil to bloom well, you will need to ensure that the area is regularly watered until the plant is fully established.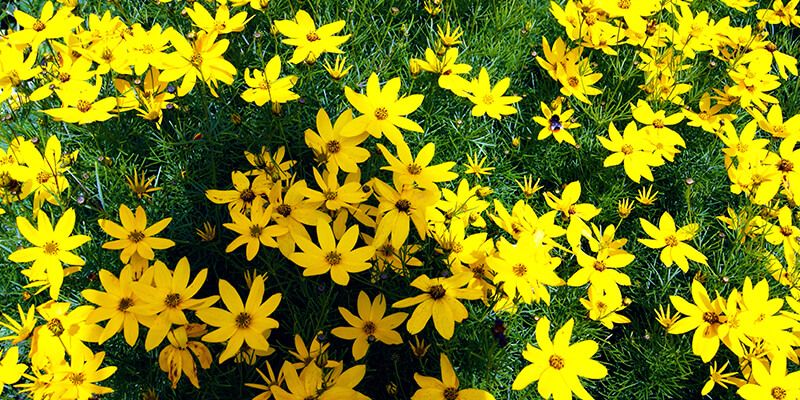 10. Achillea
We thought that we would end our guide to the best perennials with one of our favourites, the Achillea. Many of our clients who opt for regular grounds maintenance in Bedford request for Achillea plants to be incorporated into the landscaping due to their striking appearance.
As the Achillea is a member of the daisy family, the Summer-blooming flowers feature tiny, delicate petals that grow in tightly packed groups. Each group alone can reach as big as 10cm in diameter. Just like the Astilbe, the foliage of the Achillea includes feathery leaves with many similarities to a fern.
The Achillea plant can grow in both soil and gravel and will not require any pruning after blooming season. Unfortunately, this particular perennial is likely to last only around three years before it will need to be replaced.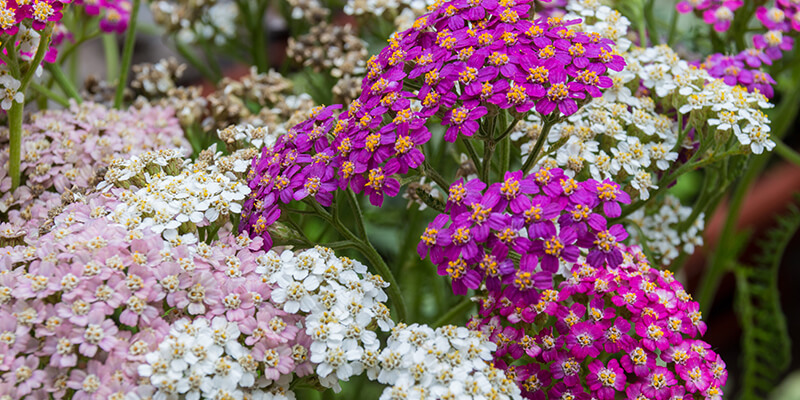 Bring Colour and Life To Your Commercial Landscaping!
Some of the most beautiful, vibrant and colourful plants, surprisingly, come alongside little maintenance making them ideal for a corporate environment. There will be no need for consistant pruning, deadheading and staking, as long as you ensure that they are initially planted in the adequate conditions to strive year on year.
If you are yet to bring life to your premises through the use of perennials, then please feel free to contact Neal Landscapes. Our fully trained, experienced team specialise in landscape maintenance in Northampton and surrounding areas!